News
Yachts & Yachting: Wildwind has it all... and turns it up to 11!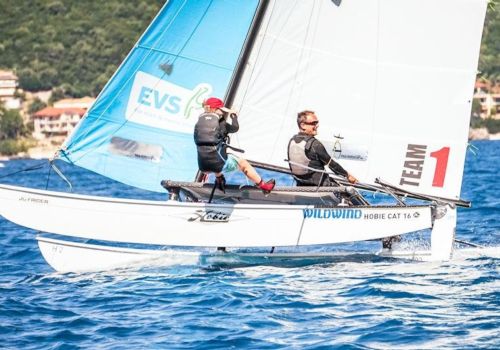 It was back in 2006 that I last visited Wildwind, and in that article for Yachts & Yachting magazine I wrote that 'Wildwind has it all!'. It turns out that I didn't know the half of it, as it has so much more.
By Mark Jardine, originally published by Yachts & Yachting
For those uninitiated with Wildwind, or the legendary venue of Vassiliki, let's start with the location and geography. It's based near the southern end of Lefkada (also known as Lefkas), a Greek island in the Ionian Sea, which is connected to the mainland via a long causeway. Getting to Vassiliki is easy as Preveza Aktion International Airport is so close to the island and has regular flights to and from the UK.
Once across the causeway you'll see the many charter yachts parked in Lefkada city marina before winding your way along the eastern coast, past Nikiana, Nydri, then through the mountains and down into Vassiliki itself. The whole journey is just over an hour, which makes the door-to-door time very short for a Greek beach holiday, which is so important in this day and age.
The bay that houses the Wildwind resort at Vassiliki is simply beautiful. Azure sea, tree-lined hills on either side, a choice of eateries and watering holes in the town of Vassiliki to one side (including a superb little pizza restaurant and take-away) and the small town of Pondi on the other, which has a far more back-packer feel about it, offers some great seafood dishes, is exceptionally friendly and good value. Then you have the three hotels at Wildwind, each with a slightly different feel, which gives you options depending on your mood.
The Melas is slightly set back from the beach, has a wonderful pool and sun-loungers, and is perfect to relax and unwind after a blast on the water, or while waiting for the breeze to kick in. The main bar in front of the Kavadias hotel looks out over the water, perfectly situated behind the Wildwind boat park, and serves a wide range of Greek dishes, as well as family favourites like pizza, pasta and chicken and chips, to keep the kids happy and well-fed for their exertions on the water. There are also the quieter Akti self-catering apartments some 200 metres from the sailing centre.
I'll keep my focus on the geography as it's this which makes Vassiliki such a mecca for sailors and windsurfers alike. While the morning breeze is mostly light, the afternoons often see a huge breeze build and race down from the hills to the West, and across the bay, providing the ultimate blast reaching track, with a good 3km of runway. The boats and boards appear from nowhere, set off, clip in, and get the rush that they've been craving all day: speed.
Nearly all great venues have a glamourous name for their wind. In Lake Garda there's the Ora from the south, which fills in like clockwork at midday on a good day, the French Mediterranean coast has the strong, cold, north-westerly Mistral, so it's no surprise that Vassiliki's wind has a name. What is a surprise though is that such an epic wind was given the humdrum name 'Eric'. It's not used as commonly as it used to be... funny that.
What is almost unique, is that Eric has the equivalent of a volume control. 100 metres away from the hillside shore is the sweet-spot, where those fans of Spinal Tap can turn it up to 11 and ride on the very edge of control (and sometimes spectacularly beyond), while another 100 metres further downwind, you can turn the dial down to 8 or 9, and go for a more relaxed blast - still the kind of volume which annoys the neighbours, but not the kind which will make your bass drivers explode. The choice is yours!
For me personally it meant I could take the kids out for their first true high-wind catamaran sailing in the iconic Hobie 16 and could dial it up or down depending on just how nuclear the wind was feeling. It was both my kids' first week of trapezing, on both monohulls and cats, and they took with glee to the 50-year-old Hobie design, which refuses to ever look or act its age, and is still the most popular catamaran in the world.
An hour or so of this left them exhilarated, energised, enthused, and exhausted. It's the kind of experience that can make a young sailor go from pastime to obsession and help them begin their journey to understanding just how enjoyable sailing can be.
When they'd had enough, or were falling off the trapeze with tiredness, it's so easy to just come in, unclip the mainsheet from the boom and hook onto a buoy just off the beach to select my next ride, often an Aero or Laser to work those hiking muscles and kick up some spray.
We visited in what is regarded as early season over the May half term and were pleasantly surprised at just how warm it was. Staple kit on the water for us was a Rooster Polypro top, swim shorts or wetsuit shorts, and dinghy boots, plus of course buoyancy aid and harness in the trapeze boats.
The beauty of Wildwind is that it isn't just limited to high wind sailing for experienced sailors and speed junkies. Beginners are catered for brilliantly, with the highly experienced staff able to impart the knowledge and enthusiasm for sailing in the mornings during a gentle breeze, usually using the excellent RS Zest dinghies, then progressing on to Lasers, Aeros and a plethora of other dinghies and cats.
I talked to a number of new-to-sailing guests while out in May and they universally were loving the experience. I got the impression that Wildwind was forging sailors who would go home and seek out their local club and continue their new-found skills, rather than just sail once a year whilst on holiday.
In the afternoon the instructors are then more than happy to take the less experienced out for a 'joyride' in the afternoon, usually on a Hobie 16, to experience the high wind blasting aspect of sailing.
Wildwind is almost a right of passage for young instructors, who have seen legends of the sport work there, such as Olympian, America's Cup and SailGP star Chris Draper, who said of his time there, "I was lucky enough to have worked at Wildwind for a short period before I got seriously involved in my Olympic commitments. My best memories of Vassiliki are simply blasting around in a selection of high-performance dinghies and catamarans - with the flat water and good afternoon winds it really is a fantastic sailing destination." Says it all really.
The range and quality of the boats at Wildwind is simply extraordinary. The Laser / ILCA dinghies are almost new, and have the proper battened sails and XD controls. Other single-hander monohulls include RS100, a pair of RS Aeros, Teras for the kids and a couple of Optimists. In the double-handers you've got the seven Zests and three Qubas for the beginners, a choice of 2000, RS200 for the hiking dinghies, moving up to a pair of single trapeze RS500s, then the 29er, the double-trapeze RS800, and the mighty 49er for those who really want to push their skills to the maximum.
The Hobie 16s are the mainstay of the catamarans, and kept in superb condition, supplemented by a half dozen Hobie Tigers, three Hobie Pacifics, a few smaller cats, such as the Hobie 14, 15 and Dragoon, then the high performance Hobie FX One, a Goodall F18 and the towering rig of the Tornado, which is an incredible sight on a windy day.
There are also paddleboards and bikes available for guests to mix it up and allow the whole family to indulge in their other passions.
Party night at Wildwind is legendary, with the slick and talented house band (made up of Wildwind staff) getting everyone on their feet for a dance. This event attracts many from other resorts up and down the beach and is the evening event to be at.
Lefkada has more than its fair share of stunning beaches, and it's well worth either cycling or hiring a car from one of the local places to spend a day exploring. The foothills of Stavrota, behind Vassiliki, are home to many beautiful little gems, including secluded waterfalls and fields of orange and lemon trees, but it is the beaches which are truly world-class.
Over the top of the hills to the west you have the Ionian Sea and the azure waters of Porto Katsiki Beach.
I can imagine in high season this can become too busy to be enjoyable, but in May it is simply incredible.
The beach is made up of pebbles, and the water too chalky for snorkelling (part of what gives it the incredible colour), but it is glorious for swimming in, with the paradise feeling only broken by the occasional tourist cruise boat and its running commentary over their speakers, but they're soon enough gone.
On the eastern side of the bay, just a couple of kilometres away, is Agiofili, which is accessible either by water or down a rock path from the car park above. The beach has perfect sand and is set in a glorious natural cove, with a few rocks at the southern end attracting a beautiful range of colourful fish. You can invest in a snorkel to take it all in, but the fish are so close to the surface that just a pair of swim goggles is enough to have a truly astounding time. Once again, I was surprised by the warmth of the water in May, as I was comfortable in just swim shorts for well over an hour in the water.
Wildwind truly has a bit of everything for water lovers, the adventurers and the party-goers as well as those taking their first steps in a boat, and those just wanting to relax. If you want to turn it up to 11, you can in some of the best dinghies available, or you can just go for a quiet potter on your own.
Wildwind also offer their 'Healthy Options' programme, aimed primarily at partners who aren't quite so enthusiastic about sailing, offering a superb range of yoga, pilates and fun fitness classes, guided walks, bike rides and more. Wildwind also offer a 'Wildwind Adventures' holiday where you get to try out a whole range of watersports, including sailing (obviously), windsurfing, scuba-diving, stand up paddelboards, kayaks and around the island aqua-safari.
Additionally, you can immerse yourself in Greek culture and cuisine, or indulge yourself in home favourites. The options are there, and the choice is yours.
It really is all that you'd expect from a sailing holiday, and so much more.