Price list for our Greek sailing holidays
In the table below are the our prices in Pounds Sterling (GBP). If you have any questions at all, please do call our friendly office team on 01920 444 091 or contact us through Facebook or e-mail.
Special Offers and Peak Season Availability



21st July -Our rooms and flights are completely full but we can source alternatives upon request.

28th July - Last Minute Family Offer in our one remaining family-friendly apartment for £270 off brochure price for 1 week's holiday OR pay the normal price and get 2 weeks for the price of 1! First come first served.

28th July - Lucky Couples Offer Last 2 rooms available at either £270 off brochure price or pay the normal price and get 2 weeks for the price of 1! First come first served.

4th August - we have sold all our British Airways flights but can source alternatives. Call for prices and availability.

11th August - We have a few rooms left at a £200 off brochure price discount - rooms allocated on arrival - please call for details

25th August - Choose from £200 off one week holidays - or pay the normal price and get 2 weeks for the price of 1! Limited places each week

Children's Discounts

Wildwind Sailing Kids under 12 are charged half price (applicable to normal adult price only and not any discounted price) and Teens 12 - 17 years receive a discount of £125 off one week holidays, £200 off two week holidays (applicable to either normal adult price or discounted adult price as appropriate).

Single Room Occupancy

Please note that for solo traveller taking advantage of our '2 weeks for the Price of 1' offer that the single occupancy charge will be applied for both weeks.


All offers include our London Gatwick flights with British Airways, accommodation allocated upon arrival in our Vassiliki beachside hotels and access to our full range of boats as well as free instruction from our RYA qualified staff. Offer places are limited to the number of flights and rooms we have available each week - first come first served. Please call 01920 444091 to make a reservation or to ask any remaining questions that you might have. Happy Sailing from the Wildwind Team.

What makes Wildwind the number one?
Widest range of dinghies and catamarans
Superb staff, many competing internationally
Strong cross-shore winds in the afternoons
Gentler breezes in the mornings
Full RYA syllabus training at no extra charge
Small family run hotels right on the beach
Great kids club for the over 7's
Laid-back atmosphere with great social life
Guests from all over Europe, all as passionate about sailing as you are!


All prices are per person in Pounds Sterling (GBP) based on two people sharing a room.
What's included in our holiday prices?
All prices are in Pounds Sterling based on 2 persons sharing a room. Solo travellers using a solo room have to pay a weekly single room supplement. Prices in the table are for our cheapest accommodation options, the panel below shows supplements for other room choices. Prices include return daytime flights from London Gatwick on Sundays, overseas transfers, accommodation and the relevant activity programme including hire of boats and other sports equipment, as well as all tuition and instruction required. Flight prices given are an indication of current market prices based on publicly available sources; we have last updated them on . Flight prices are subject to change. Ask you agent if you like assistance in selecting or booking your flight.
Room choices and upgrades supplements
All our rooms have en suite shower and bathroom, except certain linked rooms where two bedrooms share one bathroom. Moreover, all rooms have a balcony or terrace, mini-fridge, kettle and air conditioning. Some rooms offer extra space, a stunning sea or mountain view, or the ability to connect two rooms together. For these rooms an upgrade supplement will be applicable. Supplement prices are per person per week, based on two people sharing a room.
Please Note: For single occupancy of rooms the above supplements are doubled as well as the addition of the sole occupancy supplement.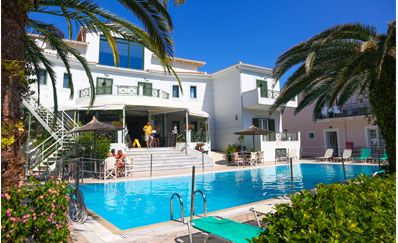 | | |
| --- | --- |
| Standard Ground Floor | £0/week |
| Standard First | £60/week |
| Standard Ground Floor Seafacing | £60/week |
| Standard First Seafacing | £95/week |
| Standard Plus First floor | £95/week |
| Ground Floor Studios & Apartments | £70/week |
| First Floor Apartments | £70/week |
Solo travellers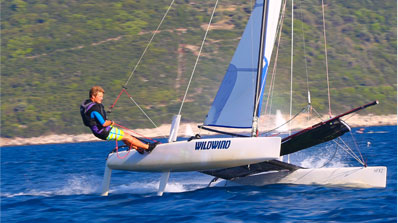 We love solo travellers and we always have many! However, if you're coming by yourself, there are a few things you should know. Because our price list is based on two people sharing a room, a supplement will be charged for solo use of a double room. You can find the supplement price per week in our price table above. On top of that, any room upgrade applicable will be doubled as well.
Are you willing to share? That would make things easier (and cheaper)! If you are travelling by yourself and would like to share a room with another guest of the same gender, you can save the cost of both the single room supplements and any double room upgrade supplement that may apply. Simply mention that you are willing to share when making your booking.
Kids' discount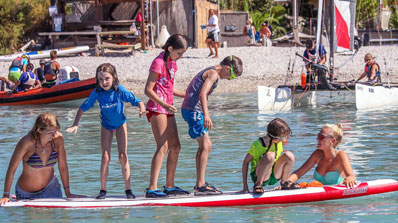 A child between 2 and 17 years old who stays in a separate room with one paying adult or one or two other children receives a discount of £125 for a one week, or £200 for a two week holiday. One child in a room of his or her own will be classed as an adult, not receive a discount and will need to pay a single room supplement. If your child under 7 is too young to participate in one of our programmes, please call us for a special discount.
Infants who are under 2 years old at the date of return from a holiday that includes a flight and who do not require their own seat on the aircraft pay only £50 per week or £80 for two weeks. This includes resort transfers and cot hire for the holiday duration.
All children between 7 and 17 have free access to our Kids Club.
Travelling from Ireland or Scotland?
Unfortunately, there are no direct flights to Preveza from anywhere in Ireland or Scotland. But that should not stop you from having a holiday with Wildwind Sailing! Our price list includes flights with British Airways from London Gatwick, leaving Sunday morning at 8am and returning at 4.35pm.
Many of our guests use a low-cost airline to fly from Dublin, Belfast or Edinburgh to London on Saturday, to start their holiday with a great night on the town. This may, in fact, be the best way to start any holiday!
Staying overnight in Gatwick?
Wildwind Sailing has an arrangement with the Gatwick Hilton South Terminal to offer our clients discounted prices for overnight stays. Simply visit the Wildwind page at the Hilton site and enjoy your stay near the airport at a better rate, before you embark well-rested on your holiday on Sunday morning.
Special offer 2019
In the early Irish and Scottisch school holiday weeks in 2019, we have a special offer for everybody travelling from Ireland or Scotland - click here for details
Your holiday is protected
All the flight-inclusive holidays on this website are financially protected by the ATOL scheme. Our ATOL number is 9464 (download our ATOL certificate here). When you pay for your holiday, you will be supplied with an ATOL certificate. Please ask for it and check to ensure that it is correct. Please see our booking conditions for further information. For more information about financial protection and the ATOL certificate please www. atol.org.uk.
Damage and Loss Waiver
A damage and loss waiver charge of £20 is applied for all participants of our Wildwind Sailing, Wildwind Adventures and Free as the Wind programmes. This covers any accidental damage you may do to our sailing boats and equipment and it means you will not be charged locally for any such damage.
Deposit and conditions
For each booking, a deposit of £125 is required. Holiday balance payments are due no later than 9 weeks prior to travel. Where the booking is made inside 9 weeks before the start of your holiday, the full balance will be due on booking. In circumstances where flights are other than our normal flight allocations are used the balance payment may be earlier – details will be given on booking.
Please download the full Terms and Conditions for our holidays.