Price list for our Greek sailing holidays
In the table below are the our prices in Pounds Sterling (GBP). If you have any questions at all, please do call our friendly office team on 01992 879774 or contact us through Facebook or e-mail.
CURRENT AVAILABILITY
21st August onward - limited availability - please call for last few places (if any!)
NOW ON SALE FOR 2023
Due to demand, we've just opened up our Room Sheets for our Vassiliki holidays next year earlier than usual. If you'd like to pencil in an advance booking please contact our UK office. We hope to have the programme finalised and prices published Oct/Nov time
If you can't wait til next summer our Mauritius holidays are open year round. https://mauritius.wildwind.co.uk/
What makes Wildwind the number one?
Widest range of dinghies and catamarans
Superb staff, many competing internationally
Strong cross-shore winds in the afternoons
Gentler breezes in the mornings
Full RYA syllabus training at no extra charge
Small family run hotels right on the beach
Nearby self-catering apts for larger families
Great Teens & Kids Clubs for the over 5's
Laid-back atmosphere with great social life
Guests from all over Europe, all as passionate about sailing as you are!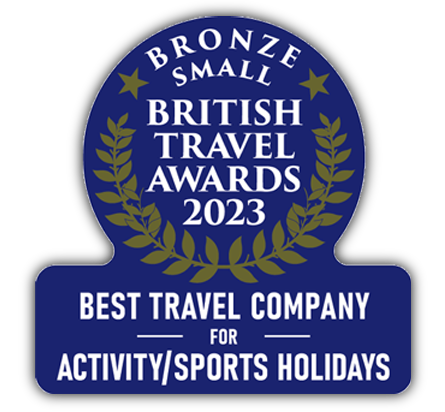 Wildwind sailing is the number one sailing holiday for everyone who's seriously passionate about sailing.
Holiday

starting date

7 nights

including flights

14 nights

including flights

Single room

supplement

1545
2095
240
1395
1945
200
1295
1745
190
1225
1675
180
1175
1625
170
1095
1545
160
995
n/a
150
A Free as the Wind holiday allows you to combine dinghy and catamaran sailing with spectacular windsurfing in the bay of Vassiliki
Holiday

starting date

7 nights

including flights

14 nights

including flights

Single room

supplement

1795
2595
240
1645
2445
200
1545
2245
190
1475
2175
180
1425
2125
170
1345
2045
160
1245
n/a
150
Wildwind Adventures is the action packed holiday off, on and under the water. Sailing, sea kayaking, windsurfing, scuba diving, mountain biking and a sea safari. One holiday all the adventures!
Holiday

starting date

7 nights

including flights

14 nights

including flights

Single room

supplement

1575
2155
240
1425
2005
200
1295
1745
190
1225
1675
180
1175
1625
170
1095
1545
160
995
n/a
150
Healthy Options in Vassilki may just be the best Yoga, Pilates and fitness holiday you can find. Not a retreat, but a real holiday. Take part in all of our extensive programme of classes and activities or choose just a few and chill around the pool. It's up to you!
Holiday

starting date

7 nights

including flights

14 nights

including flights

Single room

supplement

1275
1745
240
2 Place Left
1195
1665
200
1145
1575
190
1075
1505
180
1045
1475
170
995
1425
160
895
n/a
150
What's included in our holiday prices?
All prices are in Pounds Sterling (GBP) based on 2 persons sharing a room. Solo travellers requiring a room for sole use have to pay a weekly single room supplement. Prices in the table are for our cheapest accommodation options, the panel below shows supplements for other room choices. Prices include return daytime flights from London Gatwick on our Sunday morning charter flight, overseas transfers, accommodation and the relevant activity programme including hire of boats and other sports equipment, as well as all tuition and instruction as required. Contact our Uk office for full details.
ALL our holidays that include air travel are ATOL Protected under our ATOL licence 9464.
Damage and Loss Waiver
A Damage/Loss Waiver of £20 is additionally charged for all persons 13 years and above participating in any Watersports Programmes. This covers for accidental damage/loss to our Watersports equipment and 3rd Party Liability in case of injury to others whilst participating in these programmes.
Room choices and upgrades supplements
All rooms in Vassiliki have either twin or double beds, en suite shower/wc (except some linked rooms that share one shower/wc), balcony or terrace, mini-fridge, kettle and air-conditioning. Our standard ground floor rooms are those included in our price grid above – based on 2 people sharing a room. Room upgrades are possible, depending on availability for such as first floor rooms and seafacing rooms. We also have some apartments that offer self-catering facilities; twin studios for 2 persons, one bedroomed that take up to 3 persons and two bedroomed that accommodate up to 5 persons. Upgrade supplements apply to all rooms/apartments other than standard ground floor rooms as detailed in the panel below. Supplement prices are per person per week, based on a minimum of 2 persons sharing a room/apt. Minimum occupancies apply to larger apartments.
Please Note: For single occupancy of rooms the above supplements are doubled as well as the addition of the sole occupancy supplement.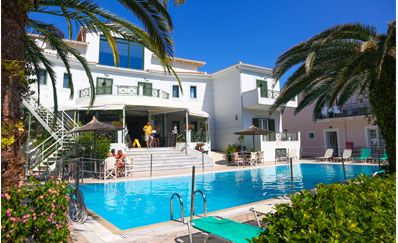 | | |
| --- | --- |
| Standard Ground Floor | £0/pppw |
| Standard First Floor | £40/pppw |
| Ground Floor Seafacing | £50/pppw |
| First Floor Seafacing | £95/pppw |
| First Floor Plus | £95/pppw |
| Studio Apartments | £40/pppw |
| One & Two Bedroomed Apartments | £60/pppw |
Solo travellers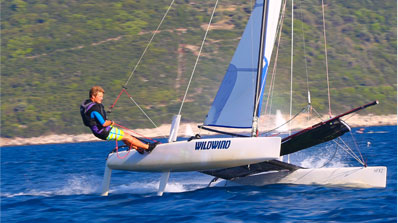 We love solo travellers and we always have many! However, if you're coming by yourself, there are a few things you should know. Because our price list is based on two people sharing a room, a supplement will be charged for solo use of a double room. You can find the supplement price per week in our price table above. On top of that, any room upgrade applicable will be doubled as well.
Are you willing to share? That would make things easier (and cheaper)! If you are travelling by yourself and would like to share a room with another guest of the same gender, you can save the cost of both the single room supplements and any double room upgrade supplement that may apply. Simply mention that you are willing to share when making your booking.
Teens & Kids Discounts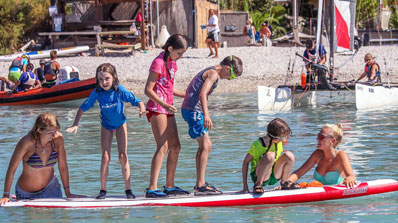 All Teens & Kids between 6 and 17 years have free access to our supervised Teens & Kids Clubs whether on our Sailing or Adventures Watersports programmes.
In addition Teens (13-17 years) receive discounts of £125 on a one week holiday and £200 on a two week holiday. DOUBLE DISCOUNTS apply to Kids (6-12 years), so £250 on a one week holiday and £400 on a two week holiday.
These discounts will apply to all relevantly aged children except any child having a room for sole occupancy in which case normal adult terms/prices apply.
If your child under 6 is too young to participate in one of our programmes, please call us for a special discount. Please note that we do not have any child creche facilities or supervision for children under 6 years or those older not participating in any of our Watersports programmes.
Infants who are under 2 years old at the date of return from a holiday, where a flight seat is not required by law on the aircraft and sit on an adult lap, pay only £50 per week or £80 for two weeks. This includes any airline fees, resort transfers and cot hire for the holiday duration.
Travelling from Ireland or Scotland?
Unfortunately, there are no direct flights to Preveza from anywhere in Ireland and only one from Scotland. But that should not stop you from having a holiday with Wildwind Sailing! Our price list (22 May onwards) includes flights from London Gatwick, leaving Sunday mornings.
Many of our guests use a low-cost airline to fly from Ireland or Scotland to London on Saturday, to start their holiday with a great night on the town. This may, in fact, be the best way to start any holiday!
Staying overnight in Gatwick?
Wildwind Sailing has an arrangement with the Gatwick Hilton South Terminal to offer our clients discounted prices for overnight stays. Simply visit the Wildwind page at the Hilton site and enjoy your stay near the airport at a better rate, before you embark well-rested on your holiday on Sunday morning.
Your holiday is protected
All the flight-inclusive holidays on this website are financially protected by the ATOL scheme. Our ATOL number is 9464 (download our ATOL certificate here). When you pay for your holiday, you will be supplied with an ATOL certificate. Please ask for it and check to ensure that it is correct. Please see our booking conditions for further information. For more information about financial protection and the ATOL certificate please www. atol.org.uk.
Deposit and conditions
For each booking, a deposit of £150 is required. Holiday balance payments are due no later than 9 weeks prior to travel. Where the booking is made inside 9 weeks before the start of your holiday, the full balance will be due on booking. In circumstances where flights are other than our normal flight allocations are used the balance payment may be earlier and higher deposits required – details will be given on booking.
Please download the full Terms and Conditions for our holidays.