News
WILL COMMON SENSE PREVAIL?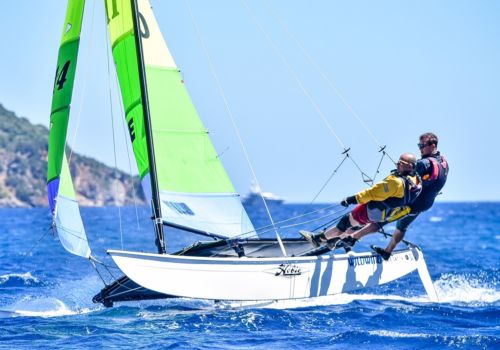 Writing to you from glorious Vassiliki with the sun shining and the cross-shore wind delighting our visitors from Germany, Holland, Belgium, Sweden and Israel who are free to take their summer holidays with few or no prohibitions, it is difficult for me to disguise my disappointment with the UK Government's continued restriction on travel to the island of Lefkas.
But, as we did last year, we promised to keep our clients and guests as well informed as possible about the situation regarding travel to Lefkas.
On a personal note, being fully vaccinated I was able to travel to Greece and Lefkas without the need for any tests. Lefkas has been designated a Green travel destination by the Greek government, due to its insignificant infection rates and for the past three days has recorded ZERO cases of Covid. Nonetheless upon my scheduled return to the UK on Friday and following a pre-departure test at Wildwind, that will inevitably prove negative, at the moment I am then forced to quarantine in UK for 5 days and take 3 more PCR tests (I will test for release) before I am free.!!!
As you know Wildwind and Healthy Options operated a shortened season last summer before there were any vaccinations and we managed this completely successfully without any cases of covid at our centre or on any of our flights.
The next UK government review is scheduled on 24th June and we are obviously hoping that the government will recognise the safe situation here and redefine its Green list to include the Ionian islands as they eventually did last year with a travel corridor to Lefkas. The government is currently under considerable pressure from MP's and the travel industry as a whole to demonstrate a more geographically focused sensible and open approach than it has to date this year, and allow British travellers the same carefully assessed freedoms afforded to other nationalities.
Nonetheless, in light of the current restrictions, we (along with many travel companies including industry giants TUI ) have been forced to postpone our British Airways flights until at least 11th July by which time we expect that the situation will be clearer.
For anyone wanting to travel under the Amber protocols (though potentially the last two dates could turn Green) we are making a very special offer for anyone keen to visit us prior to 11 July to help compensate for the testing costs in place.
This offer is for accommodation and our Sailing or Adventures or Healthy Options activities only – we can help you with sourcing alternative flights in the marketplace subject to availability at the time of booking:
JUNE 20TH £495
JUNE 27TH £545
JULY 4TH £595
Prices are per person based on 2 people sharing a room (allocated on arrival) for 7 night stays – single supplements may apply.
If you are interested in taking up this offer please contact our UK office as soon as possible.
Hoping to see you at some stage this summer.