News
Wildwind partners with International Hobie Class Association (IHCA)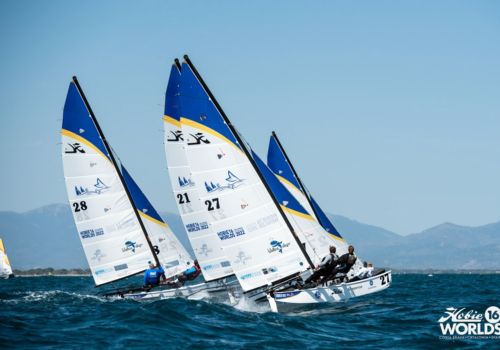 Hot on the heels of winning the Gold British Travel Award for best Sports holiday, we are delighted to announce that the International Hobie Class Association (IHCA) has invited Wildwind on board as their global strategic development partner and sponsor.
Supporting the IHCA is a natural fit for Wildwind. Hobie classes enjoy the greatest international participation, more than any other multihull; the ubiquitous Hobie 16 is still far and away the most popular catamaran on the planet and Wildwind-founder Simon Morgan is a regular competitor at major Hobie events. Also partaking in the partnership is Joyrider TV, the most widely viewed channel on multihull sailing in the world. Joyrider TV was created by Joe Bennett, who is also known as the popular beach manager at Wildwind.
The purpose of this strategic three way partnership is to encourage more members into Hobie Cat associations around the globe. One way to achieve this, is by making the IHCA's regular bulletins and newsletters more engaging, especially with the use of more video and with material that will enhance the value of being an association member.
World class all round
As executive Director of the International Hobie Class David Brooks sealed the deal, he called it more than a sponsorship: "This is a partnership between three organisations that have the Hobie Class and Hobie sailor's best interests at heart".
The high wind that started Wildwind
Simon Morgan has been racing the two-hulled beasts for over 35 years – his last foray being at the Hobie 16 Worlds in Spain last September. Simon explains: "This passion is behind everything that Wildwind is today. Anyone who knows me will vouch that I am an out-and-out Hobie aficionado, having first bought a second-hand 16 in my twenties. It was my penchant for adrenaline rides on the Hobie 16 that got me intrigued by rumours of this small fishing village on a Greek island, where the winds were said to always be strong. So in 1987 I took a sabbatical, towed a 16 behind a VW campervan, ventured across Europe and discovered the scuttlebutt had only half the story. The wind conditions that were indeed amazing, the beauty of Vassiliki and the friendly locals stole my heart in an instant. I sold my house in London to start Wildwind and we've been growing ever since, just having closed our strongest season to date in 2022".
Greece's first Hobie 16 European Championships
With the phenomenal support of Hobie Cat Europe and the local authorities, Wildwind organised Greece's first Hobie 16 European Championships – an event that attracted no less than 118 teams. The 3 races of the final day of Gold fleet were sailed in winds ranging from 25 to 40 kts, putting Wildwind firmly on the map of Hobie enthusiasts the world over. The event was shared with a global audience on Sky TV and anyone who is keen to watch Hobie sailing at its very best and Olympic medallist Mitch Booth suffering his first capsize in over ten years should certainly watch the recap on YouTube.
Joyrider TV
Speed stick expert beach manager at Wildwind's Vass base Joe Bennett adds: "I have been lucky enough to have been involved with catamaran racing since my early teens and some 27 years ago I came to work at Wildwind as beach instructor. During my time here, I have seen the company grow not only in numbers of boats - we now have over 70 cats and dinghies on our beach - but also in professionalism. Around five years ago, I decided to share my experience with a wider audience and today my Joyrider TV YouTube channel has had almost 7 million views and 30,000 subscribers. I hope my videos will give all cat sailors a sense of excitement and a reminder of just why we enjoy our sport so much, even if we're sitting down for an office lunch break or watching some YouTube during our commute. We also try to be a prime source of information that's otherwise not readily available, with subjects such as tuning, repairing, and of course sailing technique. We try to be a place where multihull enthusiasts can connect, for example at my regular Q & A online briefings. That makes this partnership such a logical extension of precisely what we're trying to do at Joyrider TV".
We're not forgetting about the monohulls!
If you're a Laser or RS enthusiast, do not fret – we're not going to love our monohull sailors any less! In fact, Wildwind has been a sponsor of the ILCA/Laser class in the UK for many years and we see our sponsorship of the IHCA as a fantastic addition to our longstanding support of the monohull-community.
Keep an eye on this newsletter for more information about our joint activities with Joyrider TV and the IHCA in 2023!