News
Wildwind Mauritius or Wildwind Vasiliki: What's the difference?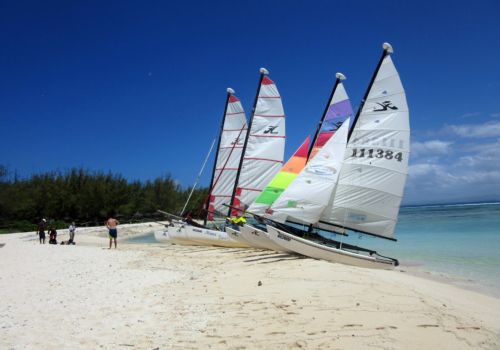 Year-round tropical sailing in Mauritius
Throughout the summer season in Greece a lot of our guests in Greece have asked me what Wildwind Mauritius is like. Here are some of the key points.
Wildwind Mauritius is open year-round, though the most of our clients visit us when it's winter in the northern hemisphere and a great time to escape to the warmth of an exotic Indian ocean island. Personally, I like to go in January or February. There's no better feeling than walking along a white sandy beach with the tropical sun on your back knowing otherwise you'd be freezing back home!
Mauritius is a more luxurious tropical holiday, and this means our Mauritian centre is much smaller and more intimate. We cater for a maximum of only twenty guests at a time, but we have enough boats for 35 - meaning that you'll practically never have to wait for your favorite monohull or catamaran to become available. However, compared to Greece, where we sport Europe's largest range of dinghies and cats, our range in Mauritius is more limited: our fleet consists of 8 catamarans, (2 x Pacific, 4 x 16, 2 x 15) and 15 dinghies (5 Laser, 1 RS 500, 2 Laser 2000, 3 Laser Bugs, 3 Laser Picos, 1 RS Quba).
Two distinct sailing areas and exciting 'Sail-aways'
As in Vasiliki, Wildwind Mauritius is RYA and VDWS recognised and we offer the bulk of dinghy and multihull courses free of charge. Our instructors are also at the top of their game and outstandingly professional, some having significant international racing experience. Most have spent time at our Vassiliki centre with Maestro Joe, in order to catch the Wildwind spirit and to see how we run things at our flagship operation.
Our centre offers the best sailing spot on the entire island. Inside the reef there is flat water and breezes usually from Force 2-4 all day. This is very different from Vassiliki, where there is usually an afternoon thermal wind. Outside the reef the winds are typically more consistent and often produce long, gentle, rolling waves but given the as the next land is over a thousand miles away and we don't want you to have more of an adventure than signed up for, we only sail here under strictly controlled supervision as when, for example, we've organised day-long 'Sail-aways' outside the reef to several exciting locations with champagne sailing conditions. Many of our clients tell us that this is the best part of their holiday!
Beautiful gardens and a pool overlooking the ocean
Most of our guests stay in the Coral Azur hotel, where the sailing centre is based. The Coral Azur has a three star rating and offers beautiful gardens as well as a pool overlooking the ocean. For that ultimate exotic feeling, either side of the hotel has white sandy beaches stretching over a mile along the shore, offering stunning views of the bay.
On our Mauritian holidays, you can also trade in some of your days sailing for our 'Adventures' programme. This gives you a chance to explore more of the island and enjoy all sorts of activities, such as scuba diving, swimming with dolphins, watching monkeys in the rain forest and much more. The Mauritian people were recently voted the friendliest people on the planet and that's something I can easily believe – they love to show you around their stunning island!