News
The perfect remedy for Autumn Blues!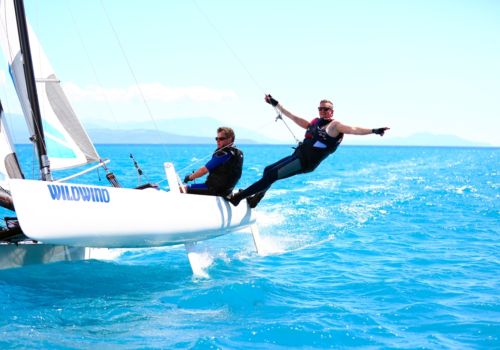 Vassiliki perfection: the sun's shining and our current guests are keenly anticipating the annual Ionian Regatta and the entertainment in nearby Sivota this coming week. With our clients giving great feedback for all the new sails, boats and equipment introduced in 2023, it's no surprise that we have been booked solid for the past four weeks and are now full until 24th September when we still have a very few places left.
So, if the prospect of the wet and cold British weather in late September and early October is too dire to contemplate and you can feel the call of Vassiliki - we suggest you contact the office as soon as possible.
A veritable Smörgåsbord of boats and activities
Where else do you have wall to wall, all day long, seven days a week access to a fleet of 70 boats ranging from Optimists and Zests to 49er and RS800 for the monohull aficionados and Hobie Dragoon and 14 LE Race to the Tornado and Goodall C2 for the catamaran junkies - so you can truly design your bespoke holiday itinerary? Add in the free options to try out Stand Up Paddle (SUP) Boarding or head off to explore on our new fleet of bikes - not to mention the infamous Wildwind BBQ on Tuesday night or the more laid back cocktail night with Joe in more troubadour mode.
A BIG thank you to all the team: Please vote in the British Travel Awards
Please do vote for our amazing team in the British Travel Awards for the best sports / activity holiday. We are blown away each week by the incredible feedback you leave for them but this is a way of upping the ante and really thanking them publicly for all their dedication, enthusiasm and energy.
Even better, if you do vote you are automatically entered into a prize draw for over £50,000 worth of holiday prizes…including a Wildwind holiday for two!
To vote please click here https://britishtravelawards.com/btaform.php?nomLink=368
Gold British Travel Award
All the team at Wildwind put their hearts and souls into providing a great holiday experience and our wonderful clients voted for us to win the 2019, 2021 and 2022 Gold British Travel Award for the best sports / activity holiday company: If you would like to know why or anything at all about our holidays, travel arrangements and so on please don't hesitate to call our friendly UK team – we're here to help you get your annual dose of heaven.