News
The new season is underway...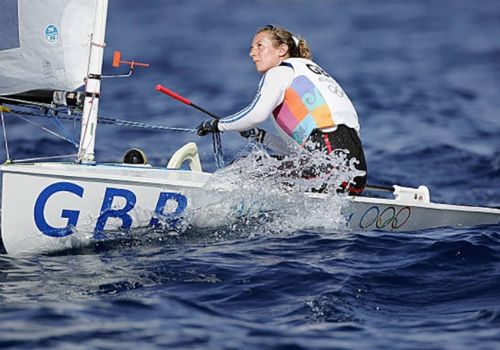 After a busy winter of preparing kit and unwrapping new boats the Wildwind Team are pleased to be welcoming clients back to Vassiliki ready for our 31st season of sailing in the sun.
It was our first chance to give our new RS Aero with foiling kit a thorough testing in Vassiliki. There were plenty of volunteers for this job. Marko got the RS Aero flying in only 9 knots of wind. Look out for some more video soon!
The season kicked off with our two specialist Laser training clinics that we run each year. These clinics are aimed at keen club racers who are looking to polish their technique with the help of our fantastic team and the special guest expert coaches that come in to assist them.
This year's expert guest coach was Laura Baldwin who represented team GB in Athens in 2004. Here is Laura's story and how Wildwind and Simon Morgan Wildwind's founder played a part in fuelling her passion for sailing.
"I Started sailing aged 13, just fun on summer Sunday's. I learned that the wind shifts and the basics of racing on a sailing holiday aged 18. One year later I had a fantastic week of sailing all kinds of fun and fast boats with my dad at Wildwind. I loved sailing at University, Team Racing and Match Racing and decided to take a gap year to learn how to fleet race at a higher level. Simon Morgan invited me to crew for him in the Greek Nationals that year, which we won! The prize giving was the best show ever, we were awarded a collection of huge trophies for winning the Hobie 16 and overall Catamaran Championship. This gave me the thirst for winning! It was the year of the Sydney 2000 Olympics, inspired me to want to campaign for the Olympics myself with the goal of 2012. I was completely blown away to be the one to represent Team GB at Athens 2004 in the women's one-person event. It was beyond a dream come true. I had not been a part of any RYA program until I qualified for the ultimate sailing team! I was a bunny in the head lamps at this pinnacle event, being on a team with my idols, Ben Ainslie, Iain Percy and Shirley Robertson.
It is great to be back at Wildwind for the fourth time, this time as part of the staffing team who are a really great group of people who love the sport of sailing. The Laser sailors are enjoying the valet boat launching and recovery service and are gaining great experience and knowledge this week with me." Laura Baldwin
Race training on dinghies and catamarans is available every week from our experienced Wildwind Team, however if you are interested in hearing about when we run our intensive clinics with special guest coaches make sure you opt in to our mailing list.