News
The latest news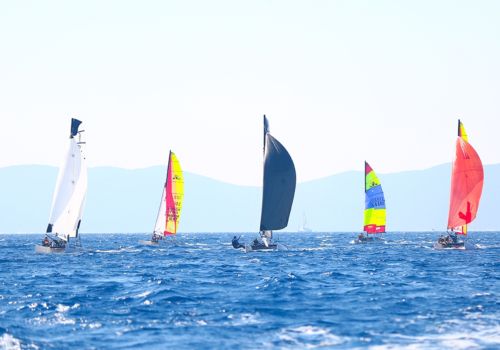 JOE GOES TO GARDA -
Wildwind Vassiliki's Manager Joe Bennett and the creator of Joyrider TV is heading off to the Tornado European Open at Lake Garda with Tom or 'Swedish' as he is widely known by the other staff and guests. Joe and Tom have their eyes on the prize of a podium place. We have our fingers firmly crossed for the Wildwind Team. If you would like to follow their progress Joe will be posting on the Wildwind Facebook Page this week. And as always you can pick up some tips from Joe to further your cat racing by heading to his You Tube Channel 'Joyrider TV.'
Here is a link to one of Joe's Race training videos on the F18 Tiger. There are some great tips for improving your downwind spinnaker technique.
We still have spaces left for the week of the Ionian Regatta which is a great chance for more experienced sailors to stretch their sea-legs and venture far beyond Vassiliki Bay.
Though our 'normal' sailing and instruction programme will also be running throughout the week, experienced sailors are invited to join in the event, racing catamarans around the small uninhabited island of Arkoudi just off the Lefkas mainland.

The regatta is always a spectacle with over 100 yachts jostling for position on the start line between Lefkas and Meganisi. The course then continues south keeping Arkoudi to starboard before heading in to the finish line at Syvota harbour for an evening of fine food at the local restaurants before a rousing prizegiving and live music celebration in the harbour.
Enjoy our Joe's video of the event a few years ago
https://www.youtube.com/watch?v=9CKRMq9YtiI

PARALYMPIANS IN VASSILIKI -
Those of you who have visited Vassiliki over the past few years may know Thanos Vakalopoulos. If you haven't had the pleasure Thanos is Simon's crew at numerous events and sailmaker and technical adviser to the Greek Olympic sailing team as well as being President of the Vassiliki Sailing Club. Thanos is passionate about sailing for those with physical difficulties and has arranged over the weekend of 29 Sept to 1 October to show off some of the Wildwind fleet to Greek paralympic sailors – an event welcomed by the Greek Sailing Federation. Good job, Thanos!