News
Team Wildwind at the Hobie 16 World Championships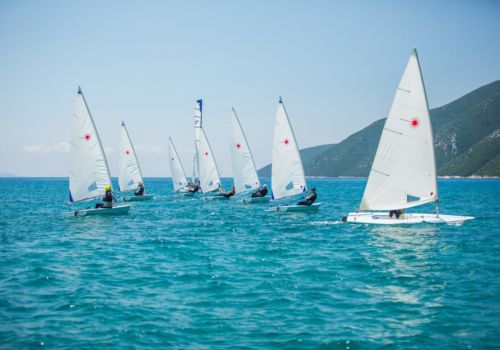 Simon and Evie discuss how they experienced the race.
A last minute change
Two weeks before the 23rd Hobie 16 World championships in Spain, Simon Morgan, Wildwind's founder and crew Bryony Spieza (formerly Bennett Lloyd) had just finished in first place at the Carey Olsen regatta in Jersey and were excited about their chances in the Great Grand Masters Event in which they were competing for the first time.
Then three days before they were due to travel Bryony tested positive for Covid blowing her chances of being at one of the most prestigious events in the catamaran racing calendar.
Step up Evie James, brand new instructor at Wildwind in Vassiliki, who having raced a few times with Hobie 16's in Jersey, was WW manager, Joe's No 1 choice as an alternative crew. So last Friday Evie got an early morning ride to Athens then on a flight to Barcelona where she met Simon for the first time…then on to the Hobie base a couple of hours north arriving in a thunderstorm!
At the World Championships, the Hobie factory provides all the boats and teams get to sail a different boat every day exemplifying the strict one design nature of Hobie sailing and ensuring a level playing field for everyone.
This means that no one gets to practise on the factory boats before the competition starts so Evie and Simon's only training together consisted of a few tacks and gybes while heading out to the start line, and, as might be expected their teamwork and experience on the water took a little time to come together
But it did, as can be seen from their results.
Day One two eight places
Day Two one second and one fifth
Day Three - With only one day to go the team was in sixth place with a good chance of advancing to fifth but with only a remote chance of any further improvement unless they won both of the races on day 3. Despite fabulous boat speed and great starts a small slip up on Race 1 of Day 3 pushed their original lead on the fleet back to a fourth place but they made up for it on the final race where the wind was now a decent Vassiliki like 18-22 knots finishing up 200 metres in front of the next boat...the team from the USA who took the overall honours in the class.
Day Three then, one fourth and one first!
Simon had this to say after the event
"Firstly, Evie did an awesome job. To step into a demanding role crewing for me and my occasionally rather loud instructions on the water, having never been at a regatta even remotely as competitive as this one took skill and commitment, and she showed all three. Obviously, her experience sailing in Vassiliki helped as, let's face it, what other competitors consider as strong winds are our bread and butter, but being chucked out on the wire on the run in 2 metre waves just so that we could round the gate inside the two boats rounding inside of us took courage and was what enabled us to take first place in the last race. Had there been another race I've no doubt we would have ended up on the podium.
Secondly, I learnt a massive amount myself. We were fortunate enough to have an experienced Brazilian team taking our boat out after we had used it and they set it up using measuring techniques I had not used before - for example we put masses of tension in the top mainsail battens but kept the lower ones almost flat, and with our mast well back we sailed with a tighter rig than I had ever used before, and as you'll see from the photos this led to an ability to sail faster and higher than most of the fleet.
Of course, there is some offset in downwind speed but after the first day when we were rather struggling downwind, I changed my technique of trying to sail as low as possible with the wind 90% apparent and surf the waves when I could to sheeting in a bit more from Day Two on, sailing a little higher and faster and steering much quicker through the waves. The results speak for themselves.
Finally, Evie and I did our due diligence on the racing rules and in particular how best to handle the downwind gates and I can highly recommend this video from SailZing that explores numerous approaches.
One last thing that worked for us but that you might want to try out before putting it into practice in a race. We were rounding the right-hand leeward gate behind two other boats and needed to be rounding inside of them in order to stay out of their backwind and have a chance at controlling when they could tack.About three boat lengths away from the mark we are pretty much dead downwind when Evie gets on the trapeze (making sure not to hit the mark with her head) and I pull the traveller into the centre and then let go of the rudders while sheeting in the mainsheet so that the boat heads up beautifully without any resistance and yes…we are inside the two others. Obviously, you need to have a good feel so that you take the tiller again before the rudders stall out but this is a trick you might want to play with.
The racing and organisation was superb all round, and w have ordered 4 of these Worlds boats for the Vassiliki base next season….and Evie and I will be heading off for the European Championships in Italy on one of them next July. Let's see if we can move even further up the rankings."
Vassiliki season ends soon
Our Vassiliiki base closes on October 9th this year – there are a few places still available for this week commencing October 2nd, so if you fancy a last minute break and a getaway then get in touch. We'll be re-opening on April 30th 2023 – and if you are thinking of joining us, you can pencil in an advance booking. This can be done without any financial commitment until our new season prices are published at the end of October.
If you can't wait until next year for your Wildwind fix our Mauritius centre is open year round!