News
So much new kit for 2023…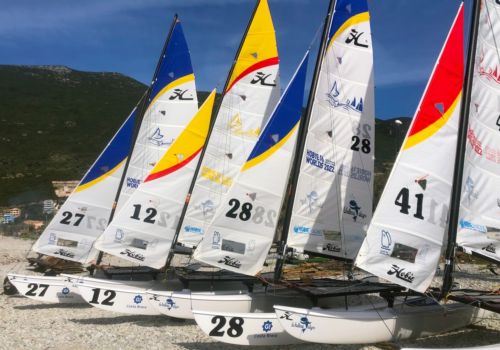 The beach team has almost finished unpacking all the new kit for the season. They are in nautical heaven, happily surrounded by 78 new sails. YES you read that right: 78 BRAND NEW SAILS! For us sailors, is there anything more satisfying than opening a brand new sail? There's nothing to compare with the pleasure of that lovely crispy feel and sound…
We pride ourselves on providing quality kit. Wildwind has always been the sailing holiday designed and provided for and by sailors so we are delighted to be able to invest in so much new equipment. New sails mean you can really make the most of putting all our coaching tips into action and perfect your technique without being held back with saggy old ones so often found on holiday boats.
New boats for 2023
Additions to the fleet this year include four spanking new Hobie 16s only used at last year's World Championship and in the special colours for the event. Here's a video of Beach Manager Joe Bennett unpacking one of them.
And here's the team taking a synchronized swimming approach to putting the sails up for the first time.
Hot off the press is the news that there will also shortly be a RS800 waiting on the beach this year to fly round Vassiliki Bay at awesome speeds.
In the catamaran fleet, the six Hobie Tigers, three FX1 single handers and three Pacifics all have freshly refinished hulls with rubber grip for comfort as well as improved traction for trapezing in that famous thermal afternoon wind.
The range and quality of the boats at Wildwind is simply extraordinary
Former Yachts and Yachting editor Mark Jardine was impressed by the fleet waiting for him on the beach last year.: 'the range and quality of the boats at Wildwind is simply extraordinary…some of the best dinghies available'. Mark noted that the ILCAs at Wildwind 'have the proper battened sails and XD controls' and that the Hobie 16s are 'kept in superb condition'. As a reminder, here's the link to Mark's article about his holiday experience with Wildwind.