News
So much more than a sailing holiday!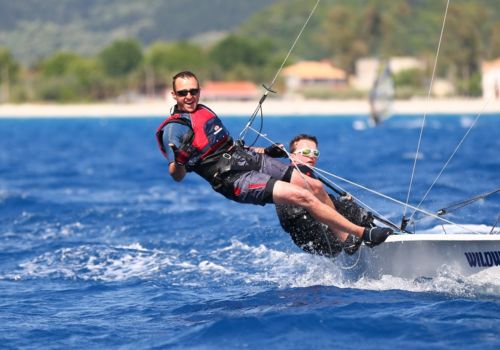 If you have ever tried to organize a family or group holiday, you will know the pain of trying and usually failing to please everybody. In our experience, it is rare that the whole family/group of friends like the same things. In response to this all too common problem we have come up with a variety of holiday packages to please everybody in your group, and they are all available in the same beautiful location of Lefkada, Greece.
If you love to sail then Wildwind a massive range of equipment available for you to use; from our new foiling dinghies to high-speed twin-trapezing Cats and our extensive range of dinghies, Wildwind is the sailing holiday for those who are serious about sailing! The unique wind conditions in Vassiliki mean that it is possible to please both beginners and expert sailors in one holiday. The wind is typically light in the morning creating an ideal environment for training beginners and developing new techniques like foiling or using spinnakers, then in the afternoon due to a unique local weather phenomenon the wind usually builds to force 4 and above meaning that experienced sailors and windsurfers get the buzz that they seek!
"Wildwind is definitely the coolest sailing centre in the world because of the variety of dinghies and cats." Alan McIntosh, Sailing School Owner, New Zealand.
But what if you want to go on holiday with someone who has never tried sailing before? No problem, they can get you on the water, and you can do learn through the RYA training scheme. There is also training for children and a fun kids club for those who aren't quite old enough to do RYA courses.
For the adventurous family member who would like to try something new, there are a wide variety of other sports available through the Wildwind Adventures package. The different activities on the Wildwind Adventures programme include scuba-diving, sailing, windsurfing, rib sea safari, sea kayaking, stand-up-paddleboarding and mountain biking. Plenty of options to please everyone!
In addition, Wildwind's sister company Healthy Options offer a Yoga and fitness holiday for friends and family who would like a relaxed and healthy holiday where they can meet like-minded people and boost their fitness at the same time as enjoying the Greek sunshine and food.
Healthy Options is a Yoga and fitness holiday with a difference; it really is a holiday! We will not be controlling what you eat or drink or how much you participate. There are plenty of activities available to you every day from Yoga and Pilates, aqua-aerobics, snorkelling, SUP and sailing taster sessions however in the usual Vassiliki style; the choice is yours, do as much or as little as you would like! For more information on Healthy Options holidays take a look at the website
"The perfect combination of activities and holiday laziness. Great classes, great instructors and the perfect location. Thank you." Aletheia, London.
Mix it up! - As a small independent company, we are more than happy to be flexible and accommodate the differing desires of everyone in your group. You can book some of your group on the Healthy Options Programme while others go for Wildwind Sailing or Wildwind Adventures.
Also available on every Wildwind holiday- sunbathing, relaxing, reading, site-seeing, swimming, eating and drinking!