News
Porto Katsiki, a little slice of heaven on earth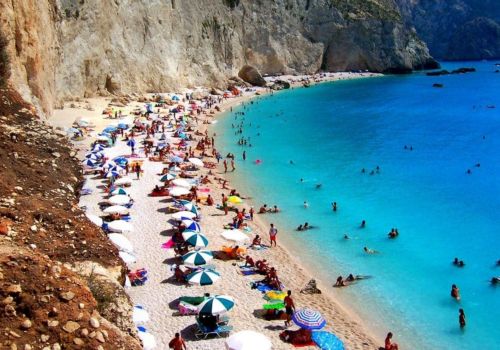 Porto Katsiki is a renowned beach located on the Greek island of Lefkada, situated in the Ionian Sea. It is often regarded as one of the most stunning beaches in Greece and has garnered international acclaim for its exceptional beauty. The name "Porto Katsiki" translates to "Goat Port" in English, and it is believed that the name originates from the fact that the beach was once accessible only to goats.
What makes Porto Katsiki truly remarkable is its dramatic landscape.The beach is nestled at the base of towering limestone cliffs that stretch high above the azure waters below.The cliffs provide a breathtaking backdrop and create a sense of secluded serenity. The pristine white sand contrasts beautifully with the vibrant turquoise colour of the sea, creating a picturesque setting.
Accessing Porto Katsiki involves descending a series of steps carved into the cliffside, which adds to the sense of adventure and anticipation. Visitors are rewarded with an idyllic beach surrounded by natural beauty. The crystal-clear waters are perfect for swimming and snorkelling, allowing visitors to explore marine life and underwater wonders.
Porto Katsiki attracts both locals and tourists alike, drawing large numbers of visitors during the summer months. It has become an iconic destination for travellers seeking a quintessential Greek beach experience. While it can get crowded during peak season, the mesmerizing scenery and the overall allure of the beach make it a must-visit location for nature lovers and beach enthusiasts.
This exotic beach isn't famous just in Greece, but all around the world, as it has been listed as one of the best beaches in Greece, the Mediterranean, Europe and the entire world on many occasions, and who could argue?
Porto Katsiki is located about 40 kilometres southwest of Lefkada Town, the island's capital city. There are two ways to access the beach. You can take a boat from Nidri or Vassiliki to Porto Katsiki or catch a daily cruise and visit Ithaka Island, Skorpios Island, Kefalonia and Egremni Beach.
However, the boats are not allowed to come onto the beach and you'll have to swim to the shore, otherwise, you'll need to stay on the boat and enjoy the stunning sights from there.
The other way to get to Porto Katsiki is by car, however, be ready for some zigzag roads! At the top, close to the steps, you'll find a car park and some snack bars and a cafe, where you can buy some food, drinks and other refreshments.
Once you arrive, you will be blown away by the breathtaking landscape and crystal clear blue sea. Porto Katsiki is surrounded by incredible hills and a cliff, which offers you a natural shade spot for some suntanning too.
Sunbeds and umbrellas are also available for rent on the beach when you get there, so don't worry about having to carry an umbrella all the way down and back up those stairs!
We do advise you to get there early and if you have children, come well prepared but we guarantee you this is a beach you will definitely admire!