News
Out and about in Lefkada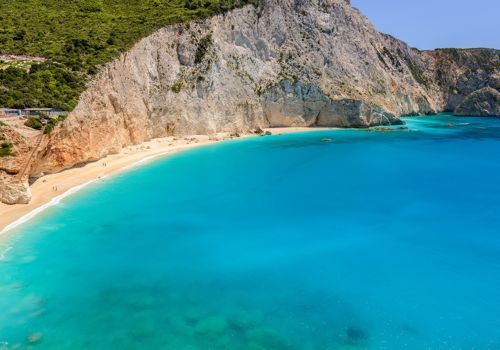 If you come on a Wildwind holiday there is a good chance that you will be far too busy out on the water to consider any other activities. But if you are staying with us for a few weeks or you are one of our many returning guests you'll probably want to explore around the beautiful Island of Lefkada. We thought we would share with you some of our favourite spots to visit.
For only a small island Lefkada has a surprising variety of landscapes to explore and the scenery both in the lush interior of the island and around the rocky coastline is absolutely stunning. Lefkada is certainly one of the greenest of all the Greek Islands, with the rivers and waterfalls of the interior being fed by natural springs. A trip into the heart of the island can be a refreshing antidote to the heat of the Summer and villages and towns of Lefkada have retained their laid back, traditional Greek charm. You'll need to hire a car for a day, but we can easily arrange that when you get here.
Here is a selection of our favourite places to visit around the island:
Nydri Waterfalls - Escape from the heat of the day to a refreshing oasis! Enjoy a picturesque walk to the waterfall and when you arrive the waterfalls are delightfully fresh and cool.
Wildwind tip- take a good pair of shoes for the walk to and from, if you choose to go in the height of summer there will be significantly less water flowing over the falls.
Porto Katsiki - One of the most beautiful beaches around the island. The beach can be tricky to get to and there are a quite a few steps to negotiate once you get there but if you make the effort it is worth it! Enjoy the dramatic cliffs, crystal clear blue water and breath-taking scenery. Wildwind tip- travel light and take your camera. There are other amazing and less popular beaches all along the rugged west coast – Egremni, Kathisma, Gialos to name a few.
Vassiliki Village - There is something very special about our local port town of Vassiliki. You'll love the balmy evenings in the village of Vassiliki as watersports enthusiasts and their families from all over Europe gather to enjoy eating in the outdoor tavernas that line the edge of the harbour. There's a selection of shops too that sell traditional Greek products such as locally produced extra virgin olive oil and wine – surprisingly good and an excellent gift or souvenir to take home with you.
Syvota Town and Harbour – Syvota harbour just a few kilometres from Vassiliki is one of Greece's finest natural harbours. Although a very small village it boasts a school, church, village square and a selection of excellent restaurants, tavernas and bars along the harbour walls. The town is peaceful, low-key and utterly unpretentious. It is popular with yacht flotillas and offers a really safe haven for yachts. It is also the location of the finish line in the annual Southern Ionian Regatta which takes place in mid-September. Almost 200 boats set off from Nidri harbour intent on reaching Syvota as fast as possible, the race ends with a fantastic open-air party in the village square. Well worth a look if you are with us from the 16th- 23rd of September.
On the first afternoon of your holiday join our friendly welcome meeting where our team are more than happy to advise you on the best local places to visit or just drop in to the Wildwind reception any time for advice, maps, excursions and anything else you might need to get the best out of your holiday with us.