News
Our Passion for Live Music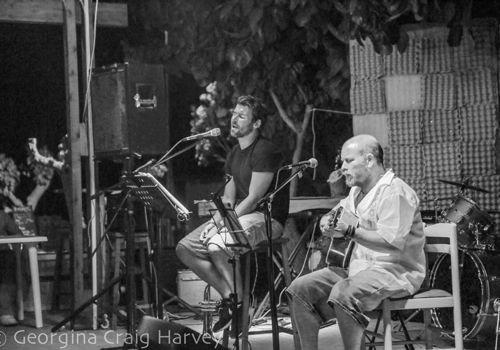 If you have been on a Wildwind Holiday, you will know that our first love is of course sailing, but it is very closely followed by our second love of live music. Many of our staff play musical instruments or sing and our clients enjoy the experience of watching the band and occasionally even joining in with a performance. At Wildwind, Tuesdays and Thursdays are our favourite evenings of the week. The Wildwind BBQ on Tuesday evening is a chance for staff and clients to share their love of music and to get up and have a dance! Thursday night is of course the Wildwind Cocktail night where our staff mix their very special cocktails and enjoy some more mellow live tunes around the pool.
At Wildwind we believe that the perfect day starts with plenty of sailing in Vassiliki Bay, interspersed with a few well-earned breaks to soak up the sunshine and is rounded off with some good food, good company and good music!
Simon Morgan and Joe Bennett the founder and manager of Wildwind have always been keen musicians. When recruiting new staff for their centres, they start off the interview by asking questions about sailing qualifications and experience and then usually follow that up with the question "Can you play an instrument?" In the future, if you are looking to get a job as a Wildwind instructor in this very sought after sailing location, it's time to pick up a guitar and get practising!
We are delighted to announce that we will be running the eighth edition of the Vassiliki Watersports Festival in June. This festival has been running since 2010 and is a celebration of watersports and live music - our two great passions. The amazing band who performed last year at our 30th Birthday have asked to come back and perform again! If you would like to join us for this fantastic week it will run from the 24th June to the 1st of July.
If you decide to stay for a second week there will be even more musical treats - the following Tuesdays' BBQ promises yet more musical brilliance, and on the Friday Club Vass are holding their annual party night with our friend, singer and trumpet player, Andy Lewis headlining the stage.
Wildwind Manager, Joe Bennett loves to share his love of watersports and music through his own You Tube Channel Joyrider TV. Here is a preview of the Vassiliki Watersports Festival from his channel.
https://www.youtube.com/watch?v=eL13oOqrm8o&list=PLbNtP4MQ_X3dZO1NT3T7HrueNWGlDhFAy&index=7