News
Lasers at Wildwind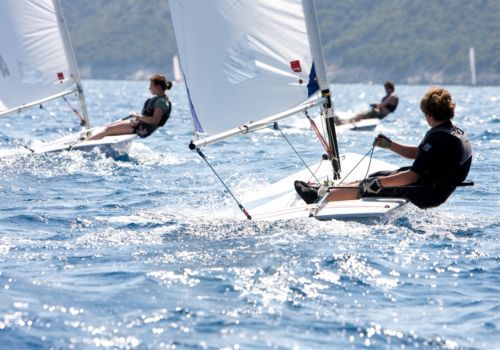 If you sail Lasers you'll already know that Wildwind have been a keen sponsor of the UK Laser Association encouraging greater participation in the Masters Nationals and the Grand Prix events around the country.
We have a fleet of 12 well maintained Lasers at our Vassiliki base with a complete range of sail sizes and many of our clients return year after year to enjoy the thrilling sailing conditions we have in the bay, flat water and fresh winds as well as our regular on and off the water weekly sessions throughout the season.
At the start of the season though we take this one step further by inviting top class Laser racers to oversee our specialist training weeks designed to really help you get ahead in the fleet no matter what your current ability.
Limited to sailors who have at least one season's racing under their belt, returning to our already experienced beach team specially for these weeks is Aaron Smith who has spent the past two years running the Andrew Simpson centre at Lake Garda.
Having sailed since he was 7 and winning numerous titles, Aaron has a multitude of experience to share. From the age of 14 Aaron sailed Laser 4.7's, Laser Radial's and briefly the Laser standard before concentrating solely on coaching in 2011. His sailing achievements include Irish Optimist National Champion 2005, RS Feva National Champion 2006, Optimist Inland National Champion 2007, 2nd 4.7 Nationals 2007 and 3rd U21 Radial Nationals 2010. He has competed in six Laser Worlds (1x 4.7, 4x radial, 1x Standard) and has been part of the 4.7 National Squad and the Radial Youth Squad.
Take a look at Aaron's video on how to improve your tacking skills as shown on Joyrider TV here
The coaching weeks are open to those with at least a season's club racing under their belts with an enthusiasm to hone their skills. Numbers are limited to a maximum 10 sailors each week as this is the ideal number to really focus on those critical start lines and first beat of a race whilst allowing coaches to help with individual advice. With the mornings to focus on light wind technique the afternoon cross shore offers lively conditions to perfect those high wind gybes.
We start the week breaking down the different aspects of rigging, boat-handling and boat speed both upwind and downwind and move on to putting these into action on the race course. There are on water coaching sessions every morning and afternoon with each followed by an all important debrief. There will also be in-depth lectures and video feedback in the beachside bar, giving sailors a chance not only to learn from our coaches but also their peers. The small size of the groups provides us with an opportunity to record at the beginning of the week the aspects of your sailing that you would like to work on and personalise your training plan.
You might also be interested in reading the first-hand experience of avid Laser sailor Niall Peel who visited Wildwind last year