News
ILCA / Laser Intensive Training Clinics - May 7, 14 and 21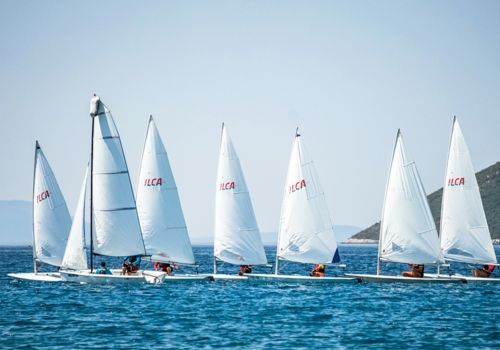 A racing sailor's dream
Thoughts beginning to turn to dreams of podium glory in your ILCA/Laser this year? Whether you are relatively new to club racing with one season under your belt or a seasoned virtuoso - would a week of intensive race training in the sun set your season off to a flying start? The week covers everything from boat tuning, tactics and boat handling to leave your competitors in your wake.
The ILCA/Laser is the classic Olympic single-hander dinghy and we have all three rig sizes on the beach ready to go. There are 14 Lasers and ILCAs and 23 brand new crisp ILCA white sails waiting to be unrolled: YES you read that right 23 BRAND NEW SAILS and those lucky enough to bag a slot on the intensive ILCA/Laser clinics will be the ones unfurling them: any racing sailor's dream. These are on top of the 15 sails new in 2022 as we at Wildwind understand that quality kit is important to our clients:
ILCA 7 sails: 8 x ILCA 2023; 6 x ILCA 2022: total 14
ILCA 6 sails: 9 x ILCA 2023; 5 x ILCA 2022: total 14
ILCA 4 sails: 6 x ILCA 2023; 4 x ILCA 2022: total 10
New sails mean you can really make the most of putting all the coaching tips into action and perfect your technique without being held back with old kit. With so many sails in all three rig sizes you will also never have to wait for the rig size you want. Add in the sun and Vassiliki's infamous ideal wind conditions and this could be the kickstart of your best racing season yet
"The boats were superb!"
As Niall Peelo ILCA sailor and UKLA member wrote last year:
"Having done several 'dinghy beach club' type holidays I have always been slightly disappointed that the boats have been old, average condition and the sails had no battens. I checked out the Wildwind fleet of ILCA's first, and was honestly amazed. The boats were superb. Some were brand new built by Riotechna, and the sails were all new ILCA logo's sails (which had battens), and on top of that they actually let you go sailing when it's over 15 knots!"
Positively encouraging and supporting clients to sail in the high wind afternoons, rather than grounding everyone to protect the kit, is a USP at Wildwind - thus the name.The bosun is there every day to take care of the boats - not to dampen your sailing and learning experience. Our two specialist ILCA coaches will be on hand to help improve your high wind race boat handling and tactics with a full rescue team as back up: if you approach high wind gybes with a little trepidation this is the place to tame them. The light winds in the morning are ideal for perfecting technique and superb preparation for those all too frequent low wind UKLA and club races when patience and technique win the day.
This year's Laser instructors
As always the intensive ILCA/Laser training weeks are led by outstanding, experienced coaches. This year they will be:
Aaron Smith
Aaron Smith started off on the RYA Optimist UK National Squad with a string of podium positions, three national champion titles (also in the RS Feva) and representing Great Britain at several World Championships. He then transitioned to the Laser 4.7 (ILCA 4), worked his way up to the RYA Laser Radial (ILCA 6) UK National Youth Squad before transitioning to the Standard (ILCA 7), representing Great Britain at five World Championships across all three rig sizes: so whether you want to focus on racing the ILCA 4 (4.7), ILCA 6 (Radial) or ILCA 7 (Standard): he's your man.
Aaron then turned his hand to coaching in 2011, kicking off in the UK, where he focused on the RYA Optimist Zone/Development Squads. With an impressive list of 16 RYA instructor qualifications to his name he then spent five years at Wildwind so he is no stranger to all things Vassiliki from instructing/joyriding and "generally drinking too much". Having spent the last few seasons as Chief Instructor and Centre Manager at The Andrew Simpson Centre in Lake Garda Aaron will be returning to Vassiliki Bay for two weeks intensive ILCA/ Laser training: he knows where his heart and the best wind conditions lie! For Aaron book May 7th or May 14th.
Ash Deaton
Much loved and popular among Wildwind clients as a coach with a calm, gentle approach Ash has been Wildwind Beach Manager Joe's Second In Command for the last five years. Ash ranked in the top five under 18 ILCA 6 UK sailors with top ten national championship results and qualified to compete for GBR in the Europa Cup. When not coaching in Vassiliki in the summer he is to be found coaching open UKLA East and South ILCA Regional Training and over the winter he coached youth national champions and a youth world champion at the Royal Hospital School.
Ash has worked alongside some of the best ILCA/Laser coaches including: Tim Hulse - ex British Sailing Team and Head of UKLA training; Shaun Priestly - currently coaching an ILCA 6 Olympic campaign and Joe Drake - Former ILCA 7 Youth National Champion. So he's learned his craft from top ILCA instructors and will be sharing their techniques with the select ten who attend the clinic on May 21st.
Exceptional personal attention
Places are strictly limited to ten a week to guarantee exceptional personal attention so each person can focus on their own individual goals and needs for the best possible preparation for your season.
Niall Peelo UKLA member's luck changed in 2021 when he won the Wildwind holiday in the raffle at the Pevensey Nationals that is part of our long standing support for the UKLA and the Masters Series. Covid delayed his trip until 2022 but rather than us telling you here is what he thought about the clinic he attended last year:
"All I can say is that it was superbly set up. Very similar to the ILCA training days we do in the UK, well structured, with low wind practice in the morning followed by a civilised lunch at one of the Wildwind bars and a heavy weather session in the afternoon, and then for me a blast on the windsurf board before heading into the small old town for dinner in the evening."
Niall also suggested that we: 'need to advertise this more in the UK, as many club mates were enduring the rain in the UK to get some pre-season practice in, probably not realising this option is available in 29 degrees of heat with Wildwind!". With places limited to ten sailors a week we prefer to take a quieter approach. Ten is the ideal number to really focus on those critical start lines and first beat of a race whilst allowing coaches to help with bespoke, individual advice. At the start of the week we record the aspects of your sailing you would like to work on and personalise your training plan. In addition to boat park and on water sessions, each followed by an all important debrief, there will also be in-depth lectures and video feedback in the beachside bar, giving sailors a chance not only to learn from our coaches but also their peers.
As you wait for the season to start or your visit to Vass, take a look at Aaron's video on how to improve your tacking skills as shown on Joyrider TV here And Niall's read full write up here for the UKLA website.