News
Calling all nature lovers aged 6-12!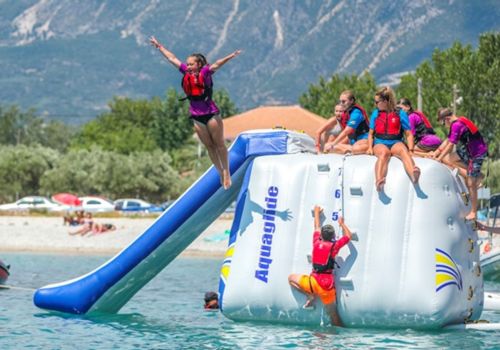 Any budding Gretas out there? Calling all Attenborough fans.
If, like many these days, your children are passionate about nature and the environment there's a new activity in Vassiliki Bay that may both inspire and entertain. Ocean Explorer is all about marine ecology and ocean conservation alongside acquiring practical skills from snorkeling and using underwater e-scooters to scuba diving.
For those keenly anticipating the return of Ariel and the release of Little Mermaid 2023 next week - this could help ease the tension at home and prove a real treat for the kids.
Ocean Explorer in Vassiliki Bay
The courses are run by George and Elena from the established local diving and kayaking centre, Nautilus - much loved by our Wildwind Adventures clients. Numbers are limited to ensure close supervision from qualified SSI Explorers Instructors. We anticipate these are going to be popular and in high demand.
A national expert
Elena really knows her stuff as she represents Greece on numerous international environmental issues and her enthusiasm to share her knowledge is contagious. The younger members of the family will come away with a greater understanding of how to protect the marine environment we all love as well as having had a boatload of fun.
Over two mornings (Wednesdays and Thursdays) there are two options:
Eco Snorkeling (from age 6):
Day 1: interactive marine ecology with videos, environmental themed games and an hour on the Water Park.
Day 2: practical snorkeling boat trip and underwater electric scooters in the pool.
Cost: 80 Euros for Wildwind clients (usually 90 Euros).
Eco Diving (from age 8):
Day 1: interactive marine ecology with videos, environmental themed games and an hour on the Water Park.
Day 2: practical scuba diving boat trip.
Cost: 115 Euros for Wildwind clients (usually 130 Euros).
Wildwind 15% discount
We are delighted to announce that the couple are kindly letting Wildwind clients have first call on the places as well as a 15% discount. If you would like to secure a place(s) for your child(ren) let the office know when you book your holiday and we will book the Ocean Explorer on your behalf (to be paid in Vassiliki). Please note that if you do decide to book then you are committing to the cost as numbers are limited.
Discounts for Teens and Kids
If these underwater adventures aren't enough, remember that those between 6 and 17 years have free access to our supervised Teens & Kids Clubs whether on our Sailing or Adventures Watersports programmes. In addition there are discounts of £125 on a one week holiday and £200 on a two week holiday for Teens (13-17 years). Double discounts apply to Kids (6-12 years), so £250 on a one week holiday and £400 on a two week holiday.