News
A Wildwind instructor with race winning ambitions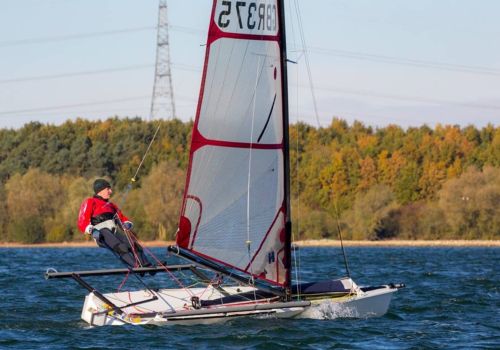 If you have been to Vassiliki you will know that amongst the sailing community it is the ultimate place to come and work. Vassiliki has it all; great atmosphere, loads of like-minded people, plenty of the best sailing kit available and of course - the famous cross shore wind! All this means we are never short of applicants for our 30-strong team. Every year we are very fortunate to be approached by some excellent instructors that are skilled not only in teaching but also many of them are keen racers that bring with them a wealth of tactical knowledge to share with the Wildwind clients.
One such instructor is Josh Belben; Josh worked at Wildwind in Greece last season and this year as well as returning to work another season at Wildwind, he has also set his sights on competing in the Musto Skiff Worlds. When we see talent and ambition amongst our team of instructors, we are keen to nurture it in any way we can.
Josh talked to us about his campaign to take part in the Musto Skiff Worlds and his ambitions for the future.
"I'm a 21-year-old, third-year student who competes in the Musto Skiff Class. A single-handed, high-performance monohull with a trapeze. I've been racing in the class for the last three years and this Summer I will be competing in my first Musto World Championships held in Medemblik, Holland.
Previously I've been Youth National Champion in the 29er and Musto Skiff while carrying out my studies in Bristol. I also finished 4th in the RS 800 nationals at my home club, Stokes Bay. Leading up to this year's Worlds in July there are currently just under 100 entries from a variety of continents. The class is in its prime, and this is one of the biggest worlds that the fleet has seen. My personal goal is to finish top 30 with the ambition of winning the title of 'Youth World Champion.'
Last season I worked as a sailing instructor at Wildwind Sailing Holidays in Vassiliki, and I plan to return this year. Wildwind are supporting me in my campaign. Their support means I can travel to Holland and race with the best possible equipment and I am able to compete and train whilst fitting in another enjoyable season of instructing with the Wildwind Team
I'm currently based on the south coast while taking a year out from university on placement. My location allows me to train regularly at Stokes Bay, my home club and arguably ones of the best sailing venues in the UK. Additionally, some of the top Musto Skiff sailors in the fleet also train there with around 15-20 boats taking part in regular racing. At the club, I have the opportunity to train alongside former World and National champions every week - great preparation for the Worlds!
My plan from here is to continue training at Stokes Bay until June and compete in the UK circuit. I will then fly back to Greece to instruct at Wildwind until the 1st of July. From Vass, I will be flying to Holland to compete in the Worlds before returning to Greece to finish off the season." Josh Belben
We will keep you posted with Josh's progress throughout the year. If you would like to polish your racing skills and learn from the Wildwind Team, then there are still a few spaces on our Laser and Catamaran training weeks in May. These dedicated race training weeks are a great way to improve your sailing and tactical skills and kickstart your racing season.