News
Wish you Happy Easter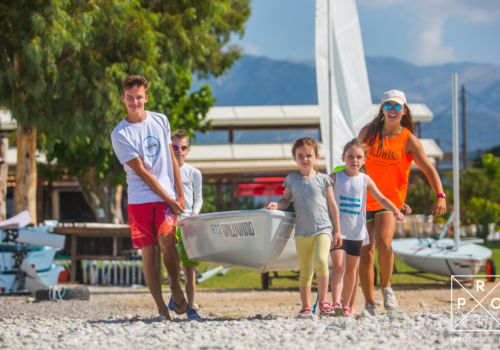 First of all, Joe and I and the entire Wildwind beach and operations team want to wish you a Happy Easter and pray that you and your families are not suffering too much during this difficult period.
As the message of Easter is one of resurrection (as well as chocolate!) I thought I would update anyone interested in what preparations we are making so that the moment we are allowed to we can open as quickly as possible.
First of all, and contrary to the information sent in our last newsletter*, I am really delighted to tell you that in fact there has been only one reported case of coronavirus on the island of Lefkas and this person was immediately isolated and taken to Patras hospital some two weeks ago and no further incidents have been recorded.
Incidentally, you might have been surprised to know why the Greeks have dealt with the current crisis better than almost any other country in Europe. Some of this has to do with the geography but also the Greek greeting (for hello and good bye) is Yassou or Yassas, which is a shortened version of 'To your health'. So the Greek daily spirit is led by a wish for all to have good health above anything else and they have taken the danger of the virus to the general public very much to heart.
The Greek authorities' response to the crisis was to effect a very quick lockdown and it seems to have been very effective - so now the Greek problem (as in other nations) is when it will become safe to lift restrictions and then whether to allow the arrival of tourists from other countries.
The truth is that no one knows the answer to this question which is, of course, the vital one as far as most tourist hotels and businesses in Greece are concerned.
Moreover, different countries are limiting travel in different ways and the airlines in different countries have so far taken different approaches. For example, Condor are currently still showing flights to Prevesa from Germany on May 3rd, whereas the Swedish airlines will not be flying until at least June 15th.
From the UK we have had our contracted May flights cancelled and we expect that there will be more to follow.
This obviously leaves us in Vassiliki very unsure as to when we will be allowed to open and when we will be able to welcome our friends back. At present though we'd like to reassure you that we are already 80% ready to roll – Joe, Karen, Marko, Amy, Stephania and Thanos are based in Vassiliki and have been slowly preparing the boats and equipment so that we can be ready the moment we have been given the go ahead.
We will keep in touch as soon as we have more news but in the meantime wed like to wish you all a Happy Easter to our Western friends this weekend and a 'Chronia Polla' to our Greek friends who will be celebrating their Easter a week later.
*The last newsletter was sent to the UK only as it concerned flights and it had suggested that there were only 9 coronavirus cases in Lefkas – in fact there is only one!