News
Wildwind and a love affair with Hobie Cats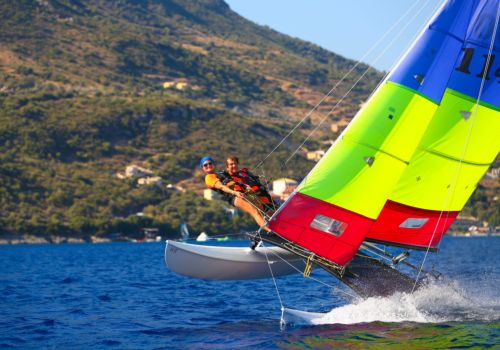 At Wildwind we offer the widest range of sailing boats of any beach-based sailing holiday in Europe. Our clients come from all over Europe to enjoy the chance to sail their favourite boats and try something new in the fantastic location of Vassiliki Bay.
Last week we shared the story of how in 1986 founder Simon Morgan then aged 29 and bored of his office job in London, decided to take some time out to travel and attend some long-distance cat racing events in America and Europe. It was on this trip that he stumbled upon the 'gem' that is Vassiliki and decided to start his holiday company 'Wildwind' in this sailing heaven.
Though we teach sailing at all levels, racing is in the blood of most of our Wildwind Team, with Wildwind holidays being popular with those who wish to hone their racing skills under the expert tutelage of our experienced staff. More than 65% of our clients are repeat bookings, and very often they are active members of sailing clubs.
Simon has always believed in giving back to the sport that he loves and Wildwind have been keen sponsors of a variety of clubs and class Associations over the years. In addition to our programme of sponsorship, we were actively involved in hosting the Hobie Europeans back in 2001. The event saw 116 Hobie 16s competing in Vassiliki Bay. The regatta was broadcast on Sky TV and reached an audience of over 10 million people from around the world - fantastic exposure for the sport of catamaran racing! Check out the footage of this very special Hobie Championships. https://www.youtube.com/watch?v=NbdGXihAKyQ
In 2018 Wildwind are yet again sponsoring the Hobie Europeans in Denmark having sent teams to the 2016 Championships in Neusiedlersee, Austria and the 2017 event in Noordwijk, Holland. 4 lucky competitors get the chance to win either a holiday to Wildwind in Greece or Mauritius.
At both the 2016 and 2017 events, Wildwind organised the filming of the regatta with each day's action available immediately for competitors to enjoy over a beer in the event tent – this was supported by the excellent VR Sport team.
Take a look at the selection of Hobie Cat racing footage on the VR Sports Website.
https://vrsport.tv/multihull/hobie-16/
https://vrsport.tv/multihull/hobie-wildcat/
For the last 31 years Hobie Cats have been an integral part of our fleet here in Vass. Since the very first time back in 1986 when Simon towed his Hobie 16 to Vassiliki and sailed it in the legendary Wildwind cross-shore he knew he had hit on a winning formula. Catamarans + Vassiliki = lots of fun.
The Hobie 16 which still holds its title as the most popular double-handed catamaran in the world continues to be an integral part of the Wildwind fleet. The Hobie 16 is delightfully overpowered for its size, with a mainsail so large that it hangs off the back of the boat. Plenty of power is also delivered by the fully battened jib. The twin-trapeze and hull, shaped with plenty of 'rocker,' mean that the Hobie 16 is simply the best cat to sail in any kind of waves.
It is extraordinary to think that the Hobie 16 was designed by Hobie Alter back in 1971, Hobie a keen surfer and board designer combined his love of sailing and surfing and created a cat to enjoy with his buddies in California. The design of the Hobie 16 stands the test of time rather like a classic sports car.
If you are yet to try a Hobie 16 twin-trapezing in a cross-shore in Vass then what are you waiting for? Even if you are a beginner we can pretty much promise to get you trapezing (alongside a competent instructor obviously,) on the first couple of days you spend with us.
Racing on a Hobie 16 takes strength and courage and with this strict one design class still attracting some of the best catamaran racers around, the beauty of racing on a Hobie 16 is that the class has already found its way into almost every corner of the globe and its simplicity means that winners are not the richest but instead the most skilled racers.
Over the years, Hobie Cat have continued to develop their range of catamarans to include lightweight racing cats with dagger-boards and spinnakers like the Hobie FX1 and the Hobie Tiger. Wildwind were quick to embrace these models and incorporate them into the fleet. Instructors like Joe, the centre manager of over 20 years, have become experts in racing on the Hobie Tiger and the Wildcat, with Joe placing 4th at the Tiger World Championships in 2016.
Hobie always organise amazing events and this year's European Championships in Denmark will be no exception. This year's multi model event will take place from the 20th-28th July in Hornbæk, Denmark. Hornbæk is a seaside resort town 50km to the north of Copenhagen on the north coast of the Danish island of Sjælland, facing the Øresund which separates Denmark from Sweden.
Once again, 4 competitors will get a chance to win 4 holidays either at the Wildwind base in Greece or in Mauritius.
If you haven't tried Hobie Cat sailing and you are keen to give it a go. RYA multihull courses are available on your Wildwind Holiday as part of the package.