News
Why we love sailing and we are so keen to support it.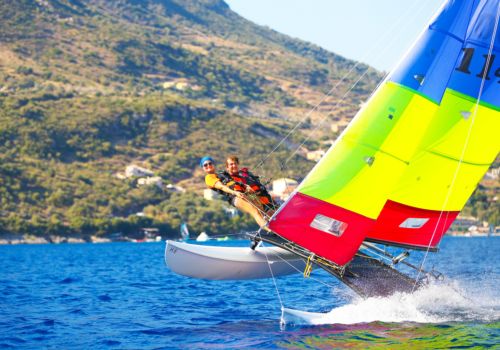 It is probably no surprise to learn that the Wildwind Team love to sail. It is not simply a job for our 30-strong instructing team, it is a way of life! Many of the instructors we employ have been sailing since they were children and have taken part in racing at club level, then national level and many have even gone on to participate at international level.
We recognise that there is something really special about a sport that has almost equal demands on your physical and mental abilities. A sport that you never seem to conquer, no matter how long you have been doing it for and a sport where every time you go out on the water the experience is completely different. In a world where technology is now competing with all sports for our attention, it is important that we continue to support and drive the sport of sailing. After all, who can say that their favourite childhood memories are of playing on a computer game?
It has been scientifically proven that outdoor and in particular activities carried out on the water are excellent at combatting the modern scourge of stress and depression.
"Scientists have discovered that humans have something they call a "blue mind." This means that our brains are hardwired to react positively to water. Watching the ocean, listening to the ocean, or being in the ocean, gives the brain a rest from overstimulation. Our brains do not shut down, they simply adjust how they are working, giving them a much-needed break… Often followed by the release of the happiness chemicals – dopamine and serotonin." Wise and Well blog, 2017
Wildwind's founder Simon Morgan has been racing since he was a young boy, influenced by his father who competed in the Olympics in 1964 and consequently at the centre of his Wildwind's ethos is the desire to give back to the sport he loves.
Because of our long-term involvement with sailing in the UK we recognise the unique role that our wonderful sailing clubs have in driving enthusiasm for the sport. It is these sailing clubs dotted around the UK coastline and rivers that provide a place for youth sailors to get a cost-effective introduction to sailing and make new friends outside of school. Many of you reading this will have some fond memories of your sailing club when you were a child. Sailing Clubs are also wonderful places where sailors, young and old, mix together. The majority of clubs are supported by groups of enthusiastic volunteers.
In addition to the sailing Clubs are the Class Associations that organise the racing events around the country, these associations are also driven by enthusiastic volunteers and Wildwind are keen to support them through a programme of sponsorship.
In 2018 Wildwind are sponsors of the Hobie Europeans to be held in Denmark in July. They are also keen to sponsor the planned revival of the UK Hobie Cat Class Association. They are sponsoring the 2018 Laser Grand Prix Series, the Laser Masters Circuit and the Laser Masters National Championships. They also sponsor regular racing at Lymington Sailing Club, (Simon's local club), where 'Wildwind Wednesdays' have proved very popular. In addition, Wildwind are happy to help Itchenor Sailing Club to promote their new scheme 'The 2000 Dinghy Sailing Experience' which is aimed at individuals or families looking to improve their sailing without having to own a boat. If you would like further details on how to get involved with this scheme, please contact Stephen Carden-Noad on
01243 512400 or email http://office@itchenorsailingclub.co.uk
If you are a member of a sailing club or Class Association and you would like to work with Wildwind to promote your sailing club, race events or class association, please get in touch.