News
Warning - Don't go to Mauritius!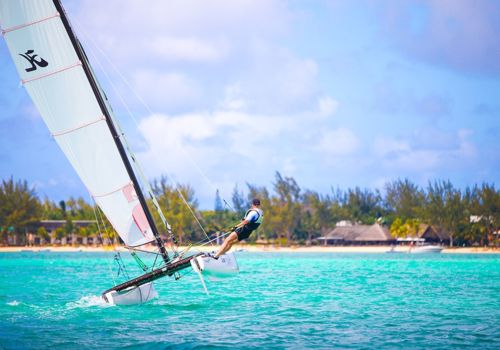 Kerstin Frickmann from Switzerland has just returned from her fourth holiday with us in Mauritius; she has this advice for you all…
Warning!
"Never fly to Mauritius! Do not book a Wildwind holiday there! Under no circumstances should you sail for hours over the Indian Ocean in the northwest of the island. No way! Never ever! Jamais! ... because Wildwind Mauritius is addictive!
Do not ask me, what exactly is it that fascinates me so much, the magical attraction: Is it the amazing Wildwind Team? The challenging, seductive, stunning sailing breeze that lovingly pushes me and my craft to new limits without overwhelming me? The wind that lets me with 4,7m of sail on the laser mast out on the water tucked behind the reef or later on a catamaran on the rolling waves in front of it shred? Its power, which pulls me forward, pushes, pushes, accelerates, makes me happy? Is it the combination of the noticeable sailing freedom with the light reflections on the shell of the giant turtles, the black wings of the manta rays outside on the ocean, the openness, tolerance, liveliness, vocabulary, friendliness, the smile of the people?
Learn, try or enjoy pure freedom: everything is possible there. It is all up to you, according to your wishes and needs. What could be better for us hard working European people at this time of year?
Wildwind Mauritius has become my sailing life highlight, without which I can no longer survive! I am an addict! I am addicted to Wildwind and Mauritius and I am now suffering from the heaviest withdrawal symptoms. Would you like to suffer like that? No? Then keep your fingers away from the PC keyboard! Do not write a request and do not click send. Never put your foot on one of the seductively prepared boats and feel the rush and hum of the water over the hull and the warm wind in your hair. Your fate would be sealed. I warned you!
Never fly to Mauritius!"
Kerstinn Frickmann, Switzerland.
You could take Kerstinn's Advice and stay away, or you could take advantage of one of our fantastic offers. Go on you know you want to!
Take a look at our offers for March and April https://mauritius.wildwind.co.uk/winter-sailing-holiday-prices
And if that wasn't enough to whet your appetite, we'll also include an opportunity for you to go swimming with dolphins and other optional adventures all included in your holiday price!
We are celebrating the 5th anniversary of Wildwind Mauritius on 9th February with a big party; all Wildwind clients are invited! It is still possible to join us at this time; however, from the 8-11th of February, the multihull fleet is fully-booked. During this time you can still enjoy sailing on one of our range of the dinghies, or you could take some time to explore the island, perhaps you could try one of our other activities, like a trip on a large cruising catamaran?