News
Joyrider TV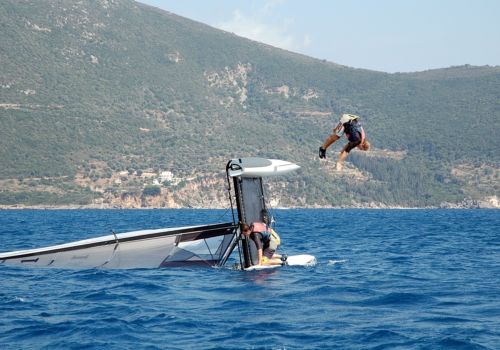 Joyrider TV
Wildwind Vassiliki's Centre Manager, Joe Bennett likes to share his passion for all things Vass through his You Tube Channel 'Joyrider TV.' He started the channel 12 years ago and he hasn't looked back - his channel has now passed the 1.5 million view threshold and has around 1800 subscribers. Joyrider TV is a mixture of informative training videos, product videos and videos which show the pure joy of sailing in Vassiliki. There is of course as you would expect from Joe and the Wildwind Team plenty of fun stuff too and if you haven't watched 'The Top 12 Catamaran Crashes,' then you know what you need to do right now!! Many of the viewers for Joyrider TV are Wildwind clients either picking up tips on how to improve their sailing, finding out the latest additions to the Wildwind Fleet or just those missing their fix of Vassiliki magic.
Favourite Cat Crashes- Do not try this at home!
https://www.youtube.com/watch?v=O87s0He9GPQ
Flashback 12 years to how it all began…
"In the winter of 2006 a friend (and ex-Wildwind staff member) Spencer convinced me to go out kite-surfing with the intention of jumping the Felixstowe spit while he filmed it. It sounded like a good idea so we headed down to the beach to take it on. After many failed attempts (and hilarious crashes) I finally cleared the spit landing in the lagoon the other side. We took the footage back to the house where we edited a short video and then Spencer showed me how to upload it to You Tube. Views came in thick and fast from around the world along with comments (mostly positive) and like. I was hooked.
Here is my first You Tube video for you to enjoy!
https://www.youtube.com/watch?v=nr0xtW3zpcA&t=2s
12 years later I've now got around 150 videos on my channel and around 1.5 million views.
Joyrider TV is a great way of passing on the knowledge that I've gained over the years by working at Wildwind and sharing the thrill of sailing to people around the world. I'm always keen to make videos that people specifically want, so if there is a speed record or a sailing trick that you would like us to try, we are game, just get in touch through the You Tube channel with your ideas."
The video that is grabbing all the attention at the moment is footage of our new foiling laser breaking the 20 knot barrier. Of course you know we will spending the 2018 season trying to go even faster than that!
https://www.youtube.com/watch?v=kaxScG2qMG4
And not forgetting our new RS Aeros with foiling kit
https://www.youtube.com/watch?v=q90JBuqAgYg

Here is a preview of the videos that are under development, make sure that you subscribe to get the latest as soon as it is released.
Catamaran Capsize Recovery Technique
Should I buy a Hobie Tiger?
The Tiger jib system!
First time trapezing tips.
A thorough testing of the Foiling RS Aero - how fast will it go? Faster of slower than a foiling laser (place your bets please!)
More Mountain Biking around Vassiliki
A day in the life of Joe
Here is the link to Joyrider TV – subscribe and enjoy! https://www.youtube.com/channel/UC1lHDaNse_-YIaYNeparQ_w