News
Hear our guests speak about their July 2020 experience travelling to Vassiliki (Video!)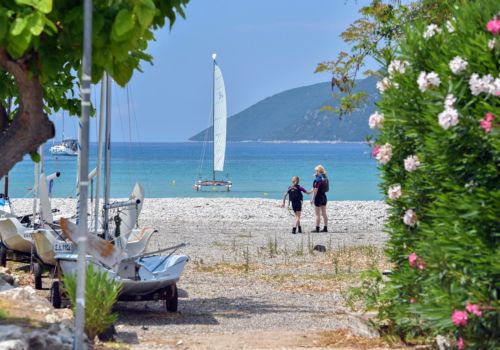 Photo: Vassiliki beach July 2020
On July 1st, we were finally able to open our doors for the summer sailing season. Our first guests are right now having great times on, off and around the water. They, like us, were a bit nervous about what the travel experience to Greece would be after the Covid crisis, but it turns out all went pretty smoothly. Greece is one of the countries that has handled the Covid situation the best and our island of Lefkas has had only one case – a person who thankfully quickly recovered at the very start of the epidemic. Now that Greece has opened its border to travelers, they continue to keep measures in place to ensure their country and all holidaymakers stays safe. Our guests told us they found the procedure not very burdensome, while it did give them a feeling of security. Listen to these guests describe their experience in the below videos.
At Wildwind, we also have a few special measures in place to ensure everyone's health and safety. First and foremost, we have reduced our capacity by 25% and we require social distancing to be observed in our bars and restaurants. Unfortunately, there will be no dancing during our weekly BBQ night and rooms will be cleaned weekly rather than daily. Other than that, our holidays go on as planned, and sailing with two people in a boat is not a problem.
Tom from the UK describes flying to Greece
Fran from the UK came to Wildwind in Greece through Amsterdam
Ingrid from The Netherlands is one of Wildwind's first guests of 2020
Coming from Poland to Wildwind
"It's way more chill here than in Germany"