News
Full RYA Course Syllabus at no extra cost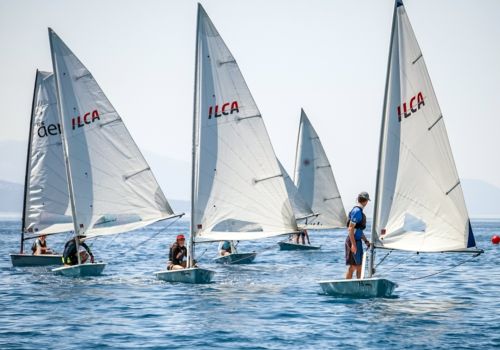 Key to Wildwind's reputation over the past 35 years has been the provision of the full range of RYA dinghy and multihull courses. Hundreds of happy clients have returned home after a holiday proudly clutching their latest RYA Certificate. Just as high calibre, expert staff have always been an important part of the Wildwind experience, so is the extensive coaching programme - importantly, all provided at no additional cost to your holiday as the courses and instruction are all provided for free.
Outstanding safety cover
As a RYA Recognised Training Centre the safety standards at our base and in Vassiliki Bay are second to none and over the winter the all important safety boat fleet has been updated to make sure that help will always be at hand- as well as a friendly instructor.
Relaxed and fast
As a shy junior who has grown up at Wildwind and who went on to be on RYA National Squads comments: "it's a relaxed way to get your qualifications and do them quickly."
As highly experienced Beach Manager Joe - yes it's his name up in lights on the RYA Training Centre Certificate - explains, this plethora of qualifications does not detract in any way from your holiday. This is no regimented camp - it's totally up to you how much or how little you want to take on board. If blasting away in the afternoon thermal followed by a G&T by the pool are more your cup of tea, then so be it: it's your holiday and totally your call.
Wind conditions to reinforce skills learned
With the variety of conditions in Vassiliki - with light breeze in the mornings to learn new skills followed by the brisk afternoon wind to try them out in more challenging conditions - you have the opportunity to really consolidate every element of the syllabus so that that RYA certificate is well earned.
We are proud to share with you our latest RYA Training Centre Certification and the comprehensive list of 22 (yes, you read that right!) RYA courses available at Wildwind.
Youth RYA courses
Not only can kids from 6 to under 18 attend the Wildwind Teen and Kids Club they can also choose to do one of the youth specific RYA Start Sailing Stage 1, 2, 3 or 4. More experienced youngsters are welcome to sign up for more advanced courses such as RYA Start Racing or Sailing with Spinnakers: the list is a long one.
The full list of RYA courses available
Dinghy Level 1 - Start Sailing
Dinghy Level 2 - Basic Skills
Dinghy Level 3 - Better Sailing
Dinghy Start Racing
Dinghy Seamanship Skills
Dinghy Performance Sailing
Dinghy Sailing with Spinnakers
Multihull Level 1 - Start Sailing
Multihull Level 2 - Basic Skills
Multihull Level 3 - Better Sailing
Multihull Start Racing
Multihull Performance Sailing
Multihull Seamanship Skills
Multihull Sailing With Spinnakers
Youth Sailing Scheme - Start Sailing Stage 1
Youth Sailing Scheme - Start Sailing Stage 2
Youth Sailing Scheme - Start Sailing Stage 3
Youth Sailing Scheme - Start Sailing Stage 4
Level 1 Start Powerboating
Level 2 Powerboat Handling
Safety Boat Course
First Aid Course: Classroom