Events
Vassiliki Watersports Festival
2012 FESTIVAL REVIEW
The 5th edition of the Vassiliki International Sailing Regatta and Festival 2012 was a great success.
153 competitors from countries as far afield as USA & Australia, as well as entries from Europe including UK, Holland, Germany, Austria, Sweden, Slovenia, Belgium, Russia, Ukraine, Poland and home nation, Greece competed over 3 daysof fantastic sailing in beautiful Vassiliki bay for races in Yacht, Catamaran, Windsurf & Laser Dinghy Classes.
As well as superb sailing on all three days, competitors, spectators and visitors were treated to three excellent evening's entertainment including a superb ballet dance show at the local school (Gymnasio) on Thursday and Saturday evenings followed by a procession through Vassiliki by the Lefkas Philharmonic Orchestra, then an Opening Ceremony attended by most of the region's dignitaries as well
as previous Olympic sailing medallists from the Bejiing (2008) and Tokyo (1964) Olympic games.
On Tuesday and Friday two of Vassiliki's long standing beach clubs put on 2 great beach parties with UK rock bands 'Snaky Fingers' performing at 'Wildwind' on Tuesday, and 'Wizard Sleeve' playing to a huge audience under the stars at 'Club Vass' on Friday night.
On Saturday the festivities continued with Lefkas' traditional music playing well into the night with well known popular singer Effy Thodi headlining the bill.
With such great results possible even in the most difficult circumstances the organisers are already looking forward to next year's events bringing even more competitors and events to Vassiliki and would like to thank everyone involved in making
this event such a success. As event organiser Simon Morgan says 'There are too many people involved to thank everyone by name…but you know who you are and you have my and the community of Vassiliki's heartfelt thanks every one of you'
PICTURES & RESULTS TO FOLLOW SOON!
Further updates about this year's event, together with photos and videos from previous years can be found here
Vassiliki Watersports Festival

This year's Festival will take place from June 26th to July 2nd and will include:
Tuesday 26th June
Beach Party & Live Music
Wednesday 27th June
Windsurfing Slalom Race
Thursday 28th June
Yacht Race Vassiliki- Arkoudi – Vassiliki
Windsurfing competitions
OPENING CEREMONY at TOWN HALL
Friday 29th June
Greek National Catamaran Cup
Laser Regatta
Windsurfing Competition
Prize-giving for Windsurfing, BBQ
Greek Dancing Night
Saturday 30th June
Greek National Catamaran Cup
Laser Regatta
Live Band in the Village
Sunday 1st July
Greek National Catamaran Cup
Laser Regatta
Final Prizegiving and Traditional Greek Evening
Further updates about this year's event, together with photos and videos from previous years can be found here
11.100+
Happy clients
65% + Returning clients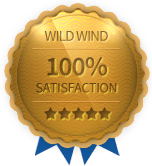 This was my first time at Wildwind and I can honestly say it was one of the best holidays I've had in a very long time
Book Now!