Events
F 18, Hurricane & Shearwater Nationals 2011
Finally I have finished editing my home movie of the excellent F18 National championships that Wildwind supported at Yaverland SC on the Isle of Wight last year…enjoy.
18 minute video of the Wildwind sponsored Hurricane National Championships 2011 at Yaverland SC Isle of Wight
(Shearwater videos to follow soon)
Don't Miss Your Chance for a Free Holiday in May!
Fancy getting away from it all for a week of sunshine and superb sailing without costing you a penny? Well if you can get a group of five friends together (that's you and four others) and book for a week's or fortnight's holiday in May then one of you gets their holiday for free!
Of course, if you want to split the savings between all of you that's fine by us too. Or perhaps you'd prefer putting your savings aside to buy drinks for your friends in one of Vassiliki's picturesque harbourside bars.
However you decide to treat your savings you do need to move quickly; this is a limited offer and is open only until Saturday March 17th.
For more information please call our UK office as soon as you can on 0844 499 2898
11.100+
Happy clients
65% + Returning clients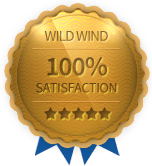 This was my first time at Wildwind and I can honestly say it was one of the best holidays I've had in a very long time
Book Now!