Price list for our Greek sailing holidays
In the table below you can find the prices of our holiday is Pounds Sterling (GBP). If you have any questions about our prices, what's included, our terms and conditions or anything else, be sure to call our friendly office team on 01920 444 091 or contact us through Facebook or e-mail
We have now extremely limited availability on our own British Airways flights in August and early September but we can still organise your holiday using alternative carriers. Please call 01920 444091 for details.
Last Minute Offers and Availability
19th Aug – 2 rooms available with last night off site - call for last minute prices and availability
26th Aug FULL
2nd Sep – 1 apartment available, (min 2 persons)
9th Sep 1 apartment (min 2 persons) and 1 male room share
16th Sep – Ionian Week. Still a couple of rooms available
23rd and 30th Sept - still rooms available

Wildwind sailing arguably offers you the best beach-based dinghy and catamaran sailing holiday in all of Europe. Book early, especially in high season, as places are limited and we tend to be fully booked most of the season.
Holiday

starting date

7 nights

including flights

14 nights

including flights

Single room

supplement

1345
1825
215
1175
1395
185
1095
1345
175
1055
1285
165
995
1155
155
945
1135
145
895
n/a
120
Free as the Wind allows you to combine sailing and windsurfing in one holiday. The windsurfing is organised in conjunction with the Club Vassiliki windsurfing school located right next to Wildwind on the beach of Vassiliki. Free as the Wind allows you to chop and change as much as you wish between sailing and windsurfing.
Holiday

starting date

7 nights

including flights

14 nights

including flights

Single room

supplement

1515
2165
215
1345
1735
185
1265
1685
175
1225
1625
165
1165
1495
155
1115
1475
145
1065
n/a
120
This price list includes your accommodation, flights, transfers to and from Preveza airport and activities with instruction for sailing, windsurfing, paddle boarding, scuba diving, sea kayaking and mountain biking (see our Activities page for more details).
RYA qualifications are also available at no extra charge, apart from the nominal cost of materials.
Holiday

starting date

7 nights

including flights

14 nights

including flights

Single room

supplement

1395
1925
215
1225
1495
185
1145
1445
175
1105
1385
165
1045
1255
155
995
1235
145
945
n/a
120
Healthy Options in Vassiliki gives you an action-packed holiday with our full range of Yoga, Pilates and fitness, plus sailing, stand up paddle boarding and more.
Holiday

starting date

7 nights

including flights

14 nights

including flights

Single room

supplement

1125
1465
215
1045
1275
185
995

1225

Full

175

945

Full

1145

Full

165
875
1095
155
845
1065
145
825
n/a
120
All prices are per person in Pounds Sterling (GBP) based on two people sharing a room.
What's included in our holiday prices?
All prices are in Pounds Sterling based on 2 persons sharing a room. Solo travellers using a solo room have to pay a weekly single room supplement. Prices in the table are for our cheapest accommodation options, the panel below shows supplements for other room choices. Prices include return daytime flights from London Gatwick on Sundays, overseas transfers, accommodation and the relevant activity programme including hire of boats and other sports equipment, as well as all tuition and instruction required. Flight prices given are an indication of current market prices based on publicly available sources; we have last updated them on . Flight prices are subject to change. Ask you agent if you like assistance in selecting or booking your flight.
Room choices and upgrades supplements
All our rooms have en suite shower and bathroom, except certain linked rooms where two bedrooms share one bathroom. Moreover, all rooms have a balcony or terrace, mini-fridge, kettle and air conditioning. Some rooms offer extra space, a stunning sea or mountain view, or the ability to connect two rooms together. For these rooms an upgrade supplement will be applicable. Supplement prices are per person per week, based on two people sharing a room.
Please Note: For single occupancy of rooms the above supplements are doubled as well as the addition of the sole occupancy supplement.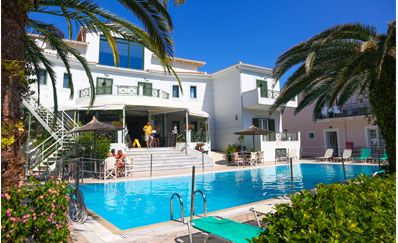 | | |
| --- | --- |
| Standard Ground Floor | £0/week |
| Standard First | £45/week |
| Standard Ground Floor Seafacing | £45/week |
| Standard First Seafacing | £80/week |
| Standard Plus First floor | £80/week |
| Ground Floor Studios & Apartments | £54/week |
| First Floor Apartments | £54/week |
Solo travellers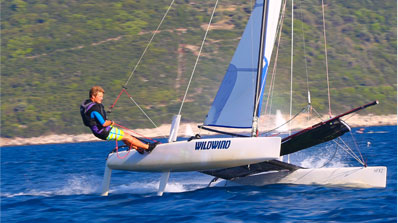 We love solo travellers and we always have many! However, if you're coming by yourself, there are a few things you should know. Because our price list is based on two people sharing a room, a supplement will be charged for solo use of a double room. You can find the supplement price per week in our price table above. On top of that, any room upgrade applicable will be doubled as well.
Are you willing to share? That would make things easier (and cheaper)! If you are travelling by yourself and would like to share a room with another guest of the same gender, you can save the cost of both the single room supplements and any double room upgrade supplement that may apply. Simply mention that you are willing to share when making your booking.
Kids' discount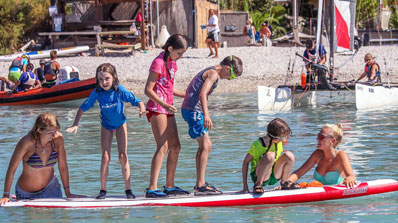 A child between 2 and 17 years old who stays in a separate room with one paying adult or one or two other children receives a discount of £125 for a one week, or £200 for a two week holiday. One child in a room of his or her own will be classed as an adult, not receive a discount and will need to pay a single room supplement. If your child under 7 is too young to participate in one of our programmes, please call us for a special discount.
Infants who are under 2 years old at the date of return from a holiday that includes a flight and who do not require their own seat on the aircraft pay only £50 per week or £80 for two weeks. This includes resort transfers and cot hire for the holiday duration.
All children between 7 and 17 have free access to our Kids Club.
Your holiday is protected
All the flight-inclusive holidays on this website are financially protected by the ATOL scheme. Our ATOL number is 9464 (download our ATOL certificate here). When you pay for your holiday, you will be supplied with an ATOL certificate. Please ask for it and check to ensure that it is correct. Please see our booking conditions for further information. For more information about financial protection and the ATOL certificate please www. atol.org.uk.
Damage and Loss Waiver
A damage and loss waiver charge of £20 is applied for all participants of our Wildwind Sailing, Wildwind Adventures and Free as the Wind programmes. This covers any accidental damage you may do to our sailing boats and equipment and it means you will not be charged locally for any such damage.
Deposit and conditions
For each booking, a deposit of £125 is required. Holiday balance payments are due no later than 9 weeks prior to travel. Where the booking is made inside 9 weeks before the start of your holiday, the full balance will be due on booking. In circumstances where flights are other than our normal flight allocations are used the balance payment may be earlier – details will be given on booking.
Please download the full Terms and Conditions for our holidays.