News
World Champion at Wildwind
We are extremely lucky to have Bryony Bennett Adams, current 420 World Champion, on the WW teaching staff early in the season (and we are trying to persuade her to stay longer) Bryony is looking to fund a 49er Olympic campaign so don't be surprised to see a jar of donations on the bar for her. We MAY have Bryony available to teach youths who really want to boost their sailing skills on a more personal basis during the peak season – more news to follow on the next newsletter.
11.100+
Happy clients
65% + Returning clients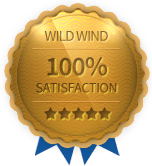 This was my first time at Wildwind and I can honestly say it was one of the best holidays I've had in a very long time
Book Now!