News
Wildwind's 30th Birthday and Vass Festival
Yes, Wildwind will be 30 next year!
30 years since Simon Morgan, the company's founder, took a sabbatical from work in London, took in a few major sailing events including a 727 mile non-stop race in a Hobie 16 from Miami to Fort Walton beach, and eventually drove his VW campervan to a windy place called Vassiliki…and never looked back!
At that time there was not even a metalled road from Nydri to Vassiliki, Greece was not yet in the EU (though the UK was!), the Melas and Kavadias 'hotel's were just one storey buildings, there was a donkey in the stony field between their simple rooms and the beach, and when Simon entered Greece towing his catamaran it was labelled as a 'double windsurfer with mast' as the border authorities had never seen a catamaran before.

Thirty years on, Wildwind has a reputation as one of the premier sailing holiday companies in the world, and, as a specialist in performance dinghies and catamarans in a high wind area, has no rival.
Wildwind's team of instructors over the years have always been exceptional; to pick a few; Chris Draper went on to helm America Cup boats, David Graham spent a very successful few years as MD of Performance Sailing (Laser) before moving on to manage Oman Sailing,Thanos Vakalopoulos became technical adviser to the Greek Olympic Sailing team.

And, of course, our extraordinary beach manager for the past 20 years, Joe Bennett placed 4th in the Hobie Tiger Worlds with bosun Mark Reynolds.

Not least in the WW 'Hall of Fame' company founder Simon Morgan has not only sailed for both the UK and Greece at World Championship level, but picked up a British National Championship on his way… and this year is returning to the race circuit entering the Hobie 16 European Championships in Holland in the Grand Master class – a perfect way to celebrate not only WW's 30th but his 60th birthday!

Of course, the Wildwind team will be celebrating every single week of the season with new guests and old, but from the 26th June to 2nd July there will be the 'Official 30th Anniversary week' running alongside the renewed Vassiliki Festival, and involving racing in 3 classes from Wednesday to Saturday, as well as great 'off-the water' entertainments and live music, including the splendid David Bowie Tribute band and others.
Check out the band's material here - close your eyes and you'd think it was the great man himself.
https://www.youtube.com/watch?v=KI-Q3MAkRKk
_____________________________________________
More details of the party and Festival will follow shortly but an outline programme is as follows:
VASSILIKI SAILING REGATTA WEEK - TUESDAY JUNE 27TH TO SUNDAY JULY 2ND ON THE WATER
Catamaran Racing Regatta Wednesday 28 - Saturday July 1
Laser & Dinghy Racing Regatta Wednesday 28 – Saturday July 1
GPS Speed Trial Catamarans and Lasers Wednesday - Saturday July 1
Youths and Childrens Regatta Saturday 1 – Sunday 2 July
Free Sailing Lessons for kids and adults Thursday & Friday 29 & 30 June
___________________________________________________

OFF THE WATER
Tuesday June 27th – Wildwind 30th Birthday BBQ
Wednesday June 28th – OPEN FOR IDEAS –
Thursday June 29th – OPEN FOR IDEAS – Acoustic music at Ilias Melas?
Friday June 30th – Greek Night in Vassiliki village
Saturday July 1st – 9.30 pm Prizegiving for Races10.30 – 1.30 am David Bowie Cover Band, plus support
Sunday - 5pm Prize Giving for Kids races at Town Hall
11.100+
Happy clients
65% + Returning clients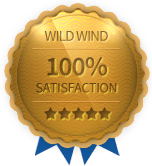 This was my first time at Wildwind and I can honestly say it was one of the best holidays I've had in a very long time
Book Now!