News
Wildwind Kids' Club with Sarah Tutton
In the world of the Wildwind kids' club there's no such thing as a 'typical day', we pride ourselves on tailoring each week to the abilities and interests of the kids, with so many different characters it would be boring to always do the same thing! However, Sarah Tutton, who runs our kids' club, has been kind enough to give us a small taster of some of the activities we offer to make a Wildwind holiday one to remember for all the family…
In the world of the Wildwind kids' club there's no such thing as a 'typical day', we pride ourselves on tailoring each week to the abilities and interests of the kids, with so many different characters it would be boring to always do the same thing! However, Sarah Tutton, who runs our kids' club, has been kind enough to give us a small taster of some of the activities we offer to make a Wildwind holiday one to remember for all the family…
Wildwind Kids' Club
Age: 7-17 (of course older kids can also join in with the adult sessions if they prefer)
Sailing ability: Complete beginner to aspiring Olympians
Morning activities:
There is lots of on-the-water fun to be had in the mornings, depending on the wishes of the parents and kids we might run an intense week of sailing, coaching children through any RYA level, while other weeks we will focus solely on water confidence and ensure kids are having the best time they can on the water. Most of the time, there's a mixture. So we might spend one morning with each child in their own boat practising manoeuvres and playing sailing games, while the next we're surfing paddle boards and doing handstands on the trapeze!
Afternoon activities:
The windy afternoons are perfect for adventures in Vassiliki. The 'Andromeda' swimming pool is always a popular option due to the leniency towards 'bombing' competitions, but the favourite activity is without a doubt going to the water park in the corner of the bay. When it's really hot we'll head to Apollo beach (stopping for ice-cream on the way, of course). If we're feeling creative we'll build model boats – demonstrating the five essentials, or work to protect an egg from the 'tower drop'.
This will be Sarah's fourth season running the Wildwind kids' club, Wildwind clients have a habit of returning for many years and those in the kids' club are no exception which also keeps Sarah coming back – "it's lovely to see kids that are reunited after a year apart, they can slip back into the easy friendships that are formed when boats, ice-cream and swimming pools are involved!"
11.100+
Happy clients
65% + Returning clients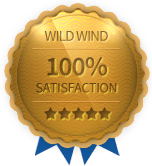 This was my first time at Wildwind and I can honestly say it was one of the best holidays I've had in a very long time
Book Now!